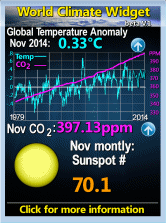 Thursday, March 06, 2014
Enerconics Speech again
This links to a video presentation of Mike Haseler's article/speech on the absolute correlation between energy use and gdp worldwide
. Getting him tomake this public may be one of my better claims to fame since this, which he calls Enerconics seems to me to be a substantial contribution to economic theory.
It also has some biographical material I didn't know before, but which does fit him perfectly:
A physics and electronics graduate of St Andrews University, Mike Haseler worked for a variety of industrial manufacturing companies, on a large range of projects controlling or monitoring temperature, before starting his own temperature control company and designing precision temperature controllers.
He joined the Scottish Parliamentary Renewable Energy Group and carried out extensive research into the renewable energy sector, becoming increasingly concerned at the lack of economic benefit from existing policy. He began campaigning to secure more jobs for Scotland in wind energy, joining the Green party who chose him to stand at the 2003 Scottish election, although he later took the decision to withdraw his candidacy.
While he continued to work in the wind industry in Scotland, erecting weather monitoring equipment, he finally gave up after accidentally informing a farmer that a windfarm was going to be built next to his property and seeing his look of absolute horror.
Since then Mike has been a campaigner against wind energy, and for energy policies that are based on 'real' science rather than global warming alarmism, and on pragmatic, evidence-based reasoning rather than utopianism. A keen blogger, he established the Scottish Climate and Energy Forum in 2011
------------------------------------------
And lets look at that worldwide correlation of energy use and gdp once again. its beautiful.
Labels: Cheap Energy, economic growth, economics, Science/technology