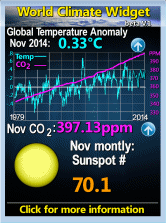 Wednesday, October 12, 2011
The Met Office have decided that we are facing global cooling (again). Suddenly they
never heard of warming.
BRITAIN is set to suffer a mini ice age that could last for decades and bring with it a series of bitterly cold winters.
And it could all begin within weeks as experts said last night that the mercury may soon plunge below the record -20C endured last year.

... research from the Met Office indicating the nation could be facing a repeat of the "little ice age" that gripped the country 300 years ago, causing decades of harsh winters...
The prediction, to be published in Nature magazine, is based on observations of a slight fall in the sun's emissions of ultraviolet radiation, which may, over a long period, trigger Arctic conditions for many years.

.... ministers have warned transport organisations and emergency services not to take any chances. Forecasts suggest the country could be shivering in a big freeze as severe and sustained as last winter from as early as the end of this month....
The National Grid will this week release its forecast for winter energy use based on long-range weather forecasts.
Not a word about catastrophic warming. You would think the Met Office and the press hadn't spent 20 years telling us that warming was producing massive sea level rise, drought, warmth, disease, famine plagues of locusts, boils and the death of the first born.
Such scare stories go round and round and have done for over a century. How long will it be before the ecofascists and government parasites are trying to bully us with a new cooling scam, like the one in the 1970s?
BBC Radio Scotland reported it too and I sent them this bit of sarcasm. No answer yet.:
Re Radio Scotland's 4 o'clock news report today of the Met Office admitting that we are heading for even colder winters.
I wish to protest. The BBC have spent £140,000 hiring one of their own to make an impartial report saying that there should never be any attempt to balance news confirming the BBC's official position that catastrophic warming is more widely accepted than the law of gravity. Clearly it is wholly improper for the BBC to report the Met Office admission which is wholly counter to your official truth.
Next thing we will have the BBC saying that the BBC reports, over more than a dozen years, that we are experiencing catastrophic warming & that children born in recent years have never seen snow, were untrue. These claims unquestionably represent the very highest standard of honesty to which anybody at the BBC ever aspires and it is quite improper of the BBC to report something which proves they are all lies told to promote dishonest government scare propaganda.
Even though it is.
This disgraceful lapse into factual reporting by the BBC was not seriously mitigated by the decision, over a later item, to have a Green politician on. Legally the BBC is required to show balance, particularly in party issues yet gives 40 times more coverage, compared to voting strength (virtually all supportive) compared to UKIP (virtually all negative) and once again we see Green politicians and their scare stories being promoted with no slightest attempt to invite a balancing speaker for rationality. Maintaining this tradition of party bias, lying scare stories and contempt for legality and democracy is entirely in the BBC's tradition, but hardly enough. I trust this brief and minor lapse. only on radio, towards reporting the truth will not be repeated.

Neil Craig"
---------------------------------------------
The other news that proves, from a political rather than "scientific" position, that warming alarmism is in fast retreat is
George Osborne's speech at Tory Conference in which he said , near the end
Britain makes up less than 2% of the world's carbon emissions to China and America's 40%.
We're not going to save the planet by putting our country out of business.
So let's at the very least resolve that we're going to cut our carbon emissions no slower but also no faster than our fellow countries in Europe.
That's what I've insisted on in the recent carbon budget.
Not a change sufficient to eliminate or even much reduce the political parasitic load put on the economy but a 180 degree change in direction which is a considerable start. Also encouraging is Chris Huhnes response to it which was that he never wanted anything different.
I am certain Osborne knows that we could get out of recession within days, simply by getting rid of all this Luddism and would like to do at least something in that direction but that the Pseudoliberals and Cameron, the Pseudo Conservative would not allow it.
However they clearly know they have been caught lying and thieving for years and are engaged in a rearguard action.
Our job is to keep at them and to prevent them rallying around some new ecofascist scare story such as global cooling again, continuing the
century and a half of such alternating warming and cooling "hobgoblins".
Labels: British politics, eco-fascism, global warming
Comments:
This, Budgie, is what David King *really* said in his testimony before parliament.
http://www.publications.parliament.uk/pa/cm200304/cmselect/cmenvaud/490/4033002.htm
The excerpt of interest is:
" . . . Fifty-five million years ago was a time when there was no ice on the earth; *the Antarctic was the most habitable place for mammals, because it was the coolest place*, and the rest of the earth was rather inhabitable because it was so hot. It is estimated that it was roughly 1,000 parts per million then, and the important thing is that if we carry on business as usual we will hit 1,000 parts per million around the end of this century. So it seems to me that it is clear on a global and geological scale that climate change is the most serious problem we are faced with this century . . . "
Only in the minds of complete fanatics could this statement be interpreted the way you and Neil have so blindly done. But once an appealing idea gets trapped in a dogmatists head, it never leaves.
Scienceblogs Skip
Post a Comment
<< Home