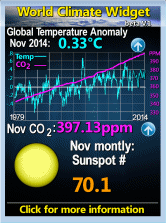 Monday, October 17, 2011
I originally said I expected to limit the Big Engineering series to not including interstellar travel because we didn't know how to do it.
However
The Woodward effect is a hypothesis proposed by James F. Woodward ,[he calls it the Mach effect]

a physicist at California State University, Fullerton

, that energy-storing ions experience transient mass fluctuations when accelerated. While some have expressed doubt about this hypothesis, no respected theoreticians have yet disproved it....
If the Woodward effect were real, and if an engine could be designed to exploit it, the basic concept would be that the engine would pull ions when their mass was lower, and push them when it was higher. The result would be steady acceleration
So the theory is consistent with current theory. But does it work? Well
In 2004, John G. Cramer, Curran W. Fey, and Damon V. Cassisi of the University of Washington reported that they had conducted tests of Woodward's hypothesis, but that results were inconclusive.

On January 20, 2006 Paul March and Andrew Palfreyman reported experimental results at an American Institute of Physics conference. Test results exceeded Woodward's predictions by one to two orders of magnitude.

In 2006, researchers at the Austrian Research Centers reported results of a study of the effect using a very sensitive thrust balance. Results did not seem to be in full agreement with the findings claimed by Woodward and collaborators. However, given the importance of the subject the researchers recommended further tests.


Inconclusive is not exactly conclusive but we are talking about experiments at the edge of the technological envelope that makes the cold fusion stuff look simple. Those look like 3 experiments which have found something where conventionally they should have found nothing. If I asked myself to bet on whether the effect is real (and I am) then I would bet fairly heavily that it is.
In which case once we have something in orbit (ie zero-G) we have acceleration requiring no fuel so long as power can be produced. With fusion, which we do not have but clearly is possiblel sometime, that gives us a space drive.
Build a true Mach-Lorentz Thruster — assuming such a thing is possible — and if the technology scales the way Woodward believes it must, the outer Solar System is reachable in less than a month. In fact, the travel times are limited largely by the accelerations a human crew could endure. Clearly, the implications for interstellar missions are interesting indeed. But we're a long way from building such devices.
That presumably means a 1G acceleration or slightly above.Personally I am not that concerned about it for travel within the solar system. We could build atomic powered ion rockets in orbit today if we had the prbital industry - that is simply engineering. If such rockets managed only 0.01 Gs they would make the outer system reachable in under 10 months (distance goes up with the square root of the acceleration) which is more than good enough to settle the Solar System. My concern is not about how it will be done but finding a baseline, using current technology or stuff reasonably assumable from it. Perhaps this drive will be developed so quickly that it will be used to settle the Solar System but
we can do it with what we have now
.
However 1 G acceleration gets you close to the speed of light. which would mean a trip to Alpha Centauri in about 6 years. Somewhat less for the voyagers because of relativistic effects but not much so.
That is twice as long as
Magellen's circumnavigation of the world 1519-22
but far shorter than
Marco Polo's travel to China 1259-95
(and neither had communication with home and other conveniences). I think we can take Odyssesus' 10 years from Troy to Thebes as exageration (we could fly it in an hour now). From the 1940s to 1973 people took the
£10 assisted passge to live in Australia
not expecting ever to return. So if a slower than light spaceship like this is possible then it would be enough to settle nearby star systems. And if the theory is right, which the experimental results suggest relatively lightly, then it is possible. And continuous expansion from their equally feasible.
And if it is possible it should be done and probably will be 2 or 3 decades after we have cheap and reliable enough travel to orbit to kickstart space industrialisation/settlement
[2012/13].
(The reader may consider what is possible with both an accelerationless drive and
cold sleep
but I will leave that until the latter shows serious progress.)
Labels: Big Engineering, Science/technology, space
Comments:
Sandy - your comments are muddled and unfortunately typical of an ill informed amateur science enthusiast who does not really understand the mechanics. Sorry but there it is.
Sandy said: "Acceleration is about velocity, not speed".
That is a nonsensical statement. Acceleration is not "about" anything. It takes place when either speed or direction or both are changed by applying force. As in the example of a satellite in earth orbit.
Sandy said: "a satelittte is in a state of cosdtant acceleration, but is not going any faster". So?
A satellite in an earth orbit has acceleration due to the external impressed force of the earth's gravity. Otherwise it would continue in a straight line path (neglecting other main gravity forces such as the sun, other planets and the galaxy) - again Newton's law.
However no
energy
is expended by the satellite to maintain such an orbit. Adding thrust in excess of earth g at the altitude of the earth orbit (which requires an expenditure of energy) would see the "satellite" exit the orbit in the direction of the net forces.
Sandy said: "build up velocity without requiring commensurate energy input would be a recipe for a perpetual motion machine". So?
I said: "as work is done by the engine over time the KE of the craft would increase". Therefore I am not proposing a "perpetual motion machine".
Post a Comment
<< Home