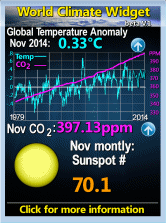 Thursday, August 04, 2011
This idea is ripped off from
John Brignall's "warmlist"
of things blamed on global warming. Here are a list of environmental world catastrophe stories, which have been used by the ecofascists to gain power and/or money, which have turned out to be untrue:
----------------------
By comparison here is a list of such stories from them which were fully true
-
-----------------------
This is a work in progress and if anybody can provide links to other examples, on either side, I will add them.
Labels: eco-fascism, global warming, hobgoblins
Comments:
Here are seven questions that no climate so-called "skeptic" has been able to answer. If they were to answer them honestly they would be forced to admit that their entire anti-science jihad is corrupt:
1. Do you agree with Richard Lindzen and Roy Spencer's statements that anthropogenic global warming is undeniable?
2. Do you accept that the rise in CO2 has increased ocean acidification, hastening the destruction of marine ecosystems with long term negative consequences for seafood production?
3. Do you accept that the National Academy of Sciences, and subsequent peer reviewed literature, have affirmed the fundamental conclusions of the "Hockey Stick" temperature reconstructions presented Mann and his colleagues?
4. Do you accept that many claims from people and organisations on the denialist side, such as Steven McIntyre's claim that the National Academy of Sciences supported his critique of Mann, or Wegmann's critique of Mann being shown to be plagiarism and fraud, are examples of denailist "voodoo"?
5. Do you accept that there are a number of carbon-based fuel conservation solutions and alternative energy sources that are both affordable and will have to be undertaken eventually anyway as fossil fuel reserves are depleted?
6. Do you accept that denialist fraud (Such as Wegman's or McIntyre's) detracts from the credibility of the entire denialist movement?
7. Of the alleged "skeptics" - can you name 2 climate specialists, who have no track record of fossil fuel industry support, who deny the scientific consensus regarding global warming outlined by the IPCC?
Post a Comment
<< Home