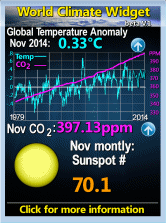 Friday, April 14, 2006
On 1st April I did a piece on "environmentalist" predictions of catastrophe in which I admitted shortage of time had prevented me going in depth into the predictions that had been made of doom & destruction.
This
via Junkscience updates it:
April 26 marks the 20th anniversary of the accident at the Chernobyl nuclear power plant. Anti-nuclear activists are still trying to turn Chernobyl into a bigger disaster than it really was.
Although the Number Four nuclear reactor at Chernobyl exploded just before dawn on April 26, 1986, Soviet secrecy prevented the world from learning about the accident for days. Once details began to emerge, however, the anti-nuclear scare machine swung into action.
Three days after the accident Greenpeace scientists predicted the accident would cause 10,000 people to get cancer over a 20-year period within a 625-mile radius of the plant. Greenpeace also estimated that 2,000 to 4,000 people in Sweden would develop cancer over a 30-year period from the radioactive fallout.
At the same time, Helen Caldicott, president emeritus of the anti-nuclear Physicians for Social Responsibility, predicted the accident would cause almost 300,000 cancers in 5 to 50 years and cause almost 1 million people either to be rendered sterile or mentally retarded, or to develop radiation sickness, menstrual problems and other health problems.
University of California-Berkeley medical physicist and nuclear power critic Dr. John Gofman made the most dire forecast. He predicted at an American Chemical Society meeting that the Chernobyl accident would cause 1 million cancers worldwide, half of them
fatal
. Greenpeace have never apologised for the claim of 2,000 dead in Sweden so nobody can honestly deny the standard of honesty of that organisation is less than 1 in 2,000. The equivalent applies to Physicians for Lies.
...................
In a similar spirit BBC Radio Scotland today said the "Sir David King, the government's chief science advisor had given his strongest warning yet that we are headed for a 3 degree warming". Since Sir David claimed in 2004 that temperatures were going up so fast that by 2100 the only inhabitable continent would be Antarctica
(as favourably reported by the Indie)
he has clearly backed off by several dozen degrees from this rather stronger warning. I emailed the BBC to say that they should correct this untrue story. On the following news programme they dropped (but obviously did not correct) the words "strongest warning" & carried a long interview with the boss of Scottish Renewables who, impartially, reported that windfarms are a wonderful & popular thing much better than nuclear. Naturally the BBC still refuse to give airtime to spokespeople from SONE or any other unambiguously pro-nuclear body.
Comments:
Nope, you just have not done your homework on this one. Apart from anything else the remarks about children you quote above were not from Greenpeace but from a discussion with a BBC reporter. Greenpeace
have
done some research and not just speculated about organic tomatoes. It is available here:
http://www.greenpeace.org/international/news/chernobyl-deaths-180406
This report is their rebuttal to the International Atomic Energy Agency Chernobyl Forum report of September last year. They say
"According to the IAEA "fewer than 50 deaths had been directly attributed to radiation from the disaster," to date. The IAEA study does not cover all of the populations affected by Chernobyl fall-out but merely considers those who received a high radiation dose in the immediate wake of the accident - namely those 'liquidators' drafted in to carry out the immediate clean up of the site."
Greenpeace believes that any competent study would take into account those indirectly affected by fallout in the immediate area and in a wider geographical spread. Their report thus uses other research to examine these issues.
There are, indeed, several problems with the IAEA report. The role of the IAEA is to promote the peaceful use of nuclear power and in the report it
has
played down the number of deaths form the Chernobyl accident. Thus
http://news.bbc.co.uk/1/hi/health/4922508.stm notes:
"A draft version of the UN's Chernobyl Forum last year suggested up to 4,000 deaths could be linked to the incident. But this figure was based on the 600,000 people exposed to high levels of radiation.

The full report suggested another 5,000 of the 6.8 million people exposed to lower levels would also die - but this figure did not appear in the 50-page executive summary. All of this data was from a 1996 study.

Explaining why the 4,000 figure was given prominence in the report, Melissa Fleming, a press officer for the International Atomic Energy Agency told [the magazine] Nature that it was to counter the much higher estimates which had previously been seen. "It was a bold action to put out a new figure that was much less than conventional wisdom." It is much lower than the 93,000 figure given by Greenpeace in its evaluation of the Chernobyl impact published this week. "
Nature agrees with this analysis at:
http://www.nature.com/nature/journal/v440/n7087/full/440982a.html
and also adds
"The figures [in the IAEA report] come from a study published in 1996 by Elisabeth Cardis of the International Agency for Research on Cancer in Lyon, France. "I was very shocked that they were quoting figures we had found ten years ago," says Cardis. "I didn't expect the numbers to be picked up and used in a press release without qualification."… Cardis is also about to publish a study of the pan-European impact. She concludes that, of 570 million people in Europe at the time, 16,000 will ultimately die as a result of the accident — 0.01% of all cancer deaths. But she says it will be virtually impossible to assess the ultimate death toll. Cancer causes about a quarter of all deaths in Europe, so weeding out those cases triggered by Chernobyl cannot be done with statistical confidence. "We'll never be able to say whether we were right or not," she says."
Hence the problem of methodology, which is also addressed in the current issue of Nature but which is not available on the web. The BBC link above covers the article however and states that
"writing in the journal, Dr Dillwyn Williams a thyroid cancer expert from Strangeways Research Laboratories, Cambridge, UK, and Dr Keith Baverstock, an environmental specialist from the University of Kuopio in Finland, said lessons could be learnt from history. They said the aftermath of the atomic bombs dropped on Nagasaki and Hiroshima by the US was that 20 years is too soon to be able to predict all the consequences of fallout…There are already indications that the breast cancer rate in Gomel, Belarus, and other heavily contaminated areas, is double that which would be expected. Drs Williams and Baverstock add: "If a full, independent study of the consequences of the world's worst nuclear accident is not established, and its results not widely published for all to assess, wildly differing claims will continue, and public mistrust of the nuclear industry will grow further.""
So not even sources apparently sympathetic to the IAEA report are happy with it. A source unsympathetic to the nuclear industry but determined to get the figures correct writes at:
http://www.guardian.co.uk/comment/story/0,,1743406,00.html
"The charity I represent has been working in Belarus for 11 years, delivering humanitarian aid, training orphanage staff and foster families, and bringing children to the UK for recuperative holidays.

Regular visitors to Belarus cannot fail to be aware of the many health problems which, even today, seem to be more acute in the contaminated parts of the country. Twenty years on, young parents are giving birth to babies with disabilities or genetic disorders, or who develop serious diseases in their early months. But as far as we know, no research is being conducted into these issues.

Haematologists speak of blood disorders in children which are normally only seen in the elderly; heart disease and respiratory problems in children are widespread; osteoporosis is seen in small children; in the orphanages there are many children who do not grow, still looking like toddlers into their teens; babies are born with missing or twisted limbs; and breast cancer among young women is a major problem.

Thyroid cancer is the only illness which is indisputably linked to Chernobyl. There was a great deal of early scepticism, especially from US scientists, but eventually it could not be denied that the exponential rise in this normally rare disease could have only one cause."
Greenpeace thus have legitimate concerns about the conclusions of the IAEA report but it seems that only more and better research can establish the true legacy of Chernobyl
Post a Comment
<< Home