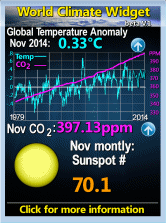 Tuesday, December 01, 2009
The 3rd of the 4 letters on the CRU emails
I mentioned yesterday
as not having been published is in today's Scotsman along with
another also critical
of the CRU (it calls for prison). The paper itself has a story on warming - that "the" explanation for Antarctica not warming is the hole in the ozone layer (!) & a
silly editorial
which manages to be on both sides at once & wrong on both. Note that of 6 comments on the Scotsman online 5 1/2 are from sceptics including a John Cameron who says "It is the biggest scandal in British science during my life as a professional scientist".
"LAST week I watched a guest on Question Time talking about e-mails from the Hadley Climate Research Unit, the world centre for collating information on global warming, which show scientists there had been "juggling with the figures".

If this leaked material is faked or if the interpretation is entirely wrong, we should know. If it is right, the entire catastrophic global warming story, which has induced government to increase our taxes, regulate us and spend billions on subsidising windmills and preventing economic growth, has been a fraud. The e-mails show one scientist saying he received £13.7 million for his research. We need an immediate public enquiry."
-----------------------
I should also mention that I missed a
letter of mine published by the Herald
last Monday. It was another attempt to raise interest on the option, now that the SNP have cancelled the Glasgow Airport Rail link, of a monorail to Paisley Station. Since this would be a small fraction of the cost if other parties were to push for it I doubt if the SNP would have a serious objection. Labour are making capital of the SNP's cancellation proving that the SNP are anti-Glasgow & pro-Edinburgh so people who want the pork barrel rolled out for Glasgow should support Labour. This glosses over the fact that Labour & the other parties pushed through the expensive but pointless Edinburgh tram system. One might almost think that none of these parties had the people's interests in mind & merely wanted to maximise the profits of preferred bidders, particularly if they happen to be donors.
When the previous Labour/LibDem administration decided we should pay for Garl, it was costed at £130m, whereas anything up to £400m is now being ?quoted. It also had an offer to build a monorail connecting to Paisley Gilmour Street station for only £20m – which, since there are trains to and from Glasgow Central every few minutes, would have enabled people to reach their destination faster. It would also have allowed cross-connection to Prestwick, effectively turning the two airports into a regional hub.

Though the monorail offer is still available, the SNP has decided to cancel everything. The Conservatives and Greens, though well aware of the monorail option, refuse to support anything in any way innovative.

This is typical of the way Scotland is run. Public projects are on average 13 times more expensive than in other ?countries. There can be no dispute that Garl, a Forth tunnel, affordable modular housing and other projects could be ?easily afforded under competent government.


This is a short version of a
previously unpublished letter (19th Sept)
UPDATE - The Scotsman published the third of these letters (about Question Time) today (Tues) along with another on the same lines.
UPDATER - I was told last night, at an ASTRA meet, that the Metro published a warming letter, I assume the 4th of those listed, on Monday. 2 out of 100 is still not a wonderful publication rate but I should retract somewhat on my complaint of non-publication.
UPDATIST - I also find I had a letter in the Daily Record on Mon the 30th, thanks Rae.
Labels: global warming, letters, Scottish politics
Comments:
You wont get anywhere with this mate, the Scotsman is in denial about ClimateGate. I bought Scotland on Sunday and commented on the web site about the Global Scaring story that was on the front page. Yet they have totally ignored ClimateGate while others around them have reported it in depth. I've stopped buying both the Scotsman and The Scotland on Sunday and removed their web site link from my favourites.
I kniow I am not going to give them a damascene conversion, indeed they banned me from commenting online there some time ago for telling the undisputed truth about the Kosovo dissections.
On the other hand the fact that this story has gone ballistic, when earlier ones went unreported shows that continued pressure does eventually move even mountains (& that the blogsphere is a much more trustworthy & increasingly important news source).
Post a Comment
<< Home