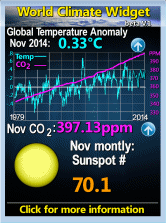 Sunday, February 02, 2014
Europe's Biggest Shopping Centre
This was
published by Brian Monteith recently on the Free Society site:
Where is Europe's biggest shopping centre? Paris? London? Frankfurt? Geneva? Odessa?
Few would have put a medium sized city in Ukraine on the list. But The Shove or 7 Kilometre Market as it is more officially known outside Odessa has a very good claim. It does not have the organised style of the others but it is the ultimate in free marketism.
I first ran across this when looking up another of my hobbyhorses - shipping container houses. There are a number of such across the world and because they can be constructed off site in factories they provide housing at a fraction, a small fraction, of the cost of conventional housing. Or at least they would if those in charge would allow us to have them.
7 Kilometre consists of 170 acres of shipping containers from which ordinary 16,000 ex-Soviets sell everything. The site is owned by local oligarch, who does very nicely out of rents.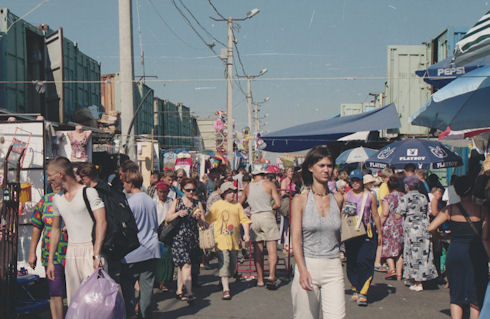 Although there are no official statistics, it has been estimated that up 150,000 customers per day pass through the alleyways of the Seventh-Kilometre Market, with millions of dollars changing hands each month. The market is also the region's largest employer, with up to 1,200 people employed as security guards and janitors.
Set up in the 1960s under the Soviets it was originally open only on Sundays (later on Saturdays), at the time a small walled-in area of 150m wide and 250m long, hence totally inadequate for a market and where the association with shoving originated. The new version was founded in 1989 during Perestroika reforms, it is now possibly the largest market in Europe.
The market is also the region's largest employer. It is owned by local land and agriculture tycoon Viktor A. Dobriansky and three partners.
The independent traders on the market sell goods in all price ranges, from authentic merchandise to all sorts of cheap Asian consumer goods, including many counterfeit Western luxury goods. According to the impressions of S. L. Myers of the
New York Times
who visited the market in 2006,
"the market is part third-world bazaar, part post-Soviet Wal-Mart, a place of unadulterated and largely unregulated capitalism where certain questions — about salaries, rents, taxes or last names — are generally met with suspicion."
However, Ukrainian president Viktor Yushchenko did announce in 2005 that he intends to enforce tax laws on the market's thriving shadow economy. wrote in 2004 that
"it is a state within a state, with its own laws and rules. It has become a sinecure for the rich and a trade haven for the poor."
Whether its continued existence is entirely because it benefits both rich and poor or whether Mr Dobriansky knows where, metaphorically, some of the bodies are buried is something on which I do not know enough to speculate. Whatever - it does seem to be the ultimate expression of the term Enterprise Zone.
However what this does show is the immense power of free enterprise. Even the "new socialist man" of the USSR found life easier when he could do a little private enterprise & so, like a dandelion in a poorly tended decaying building the market sprang between the cracks in socialism.
This reminds me of a personal conversion I went through. In my youth I was impressed with the edifice of the USSR. Russia did go "from the wooden plough to the atomic pile" in 50 years which is, even now and even knowing the cost, an impressive achievement. I now believe that was because the early Soviets were technologically progressive rather than any inherent advantage of central planning Lenin promised "communism will be achieved by Soviet power and
the electrification of the whole country
" and while that didn't exactly work out at least his objective was progressive. Nowadays socialists are Luddites but unfortunately so are the traditional "right" so western civilisation is suffering from the most reactionary of both worlds. All our Westminster parties are now committed to, indeed actively engaged in, de-electrification through windmillery. Against such stupidity even the spirit of free enterprise contends in vain
But whether declining or rising I now believe economic freedom makes life easier. I came to believe this in the mid-1970s when I heard a story from somebody who had spent a year as a student in Moscow. One night the student residence was the scene of a caviar party, thanks to one of the entrepreneurs whose kin now work in the Shove. A complicated black market deal in a massive canister of caviar had fallen through and since the entrepreneur (or anybody else there) had no fridge it had to be eaten immediately.
Think about the waste of human ingenuity. Some ducker and diver involved in deals with substantially more valuable than Arthur Daley's could not buy a fridge. Something every family in Britain had had for 2 decades. Not because the USSR was an inherently poor country like China (then) but because its resources were misdirected by a centralised bureaucracy.
So raise a glass to all the duckers and divers who have built the greatest shopping centre in Europe, Not to the Wall-Marts and ASDA's who do what they do very well, but to the anarchy of pure unadulterated capitalism.
If Scotland votes Yes we may a few hundred acres of shipping container market spring up on the border. Probably both sides depending what goods you want.
pictures lifted from google images of 7 kilometre
Comments:
I appreciate what you have done here
RC0-N06 exam
. I like the part where you say you are doing this to give back however I would expect by every one of the remarks this is working for you too.
Post a Comment
<< Home