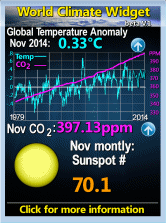 Thursday, October 24, 2013
Warming Alarmists In Full Retreat - Hot Pursuit - Don't Let Them Regroup
James Delingpole put up a post yesterday about the "Green" movement
not being
"wrong but romantic"
but actually really rather evil. I put this harsh which, has gained a fair number of likes and
nobody
among the ecofascist trolls who haunt the site feeling able to argue:
The valuable moment in Cabaret, that makes it more important than any 50 mere musicals, is the beautiful child singing Tomorrow Belongs to Me and only once the audience is hooked is it made clear the kid is hitler youth. Real villains do not wear black hats, indeed they may be more willing to claim sainthood than decent people because they are not restrained by decency.
The "
Green" movement is unquestionably guilty of at least twice as many killings as the Nazis (DDT, impoverishment, golden rice etc); it is unquestionably corrupt & genocidal; it is unquestionable that the overwhelming majority of its supporters have no slightest trace of honesty or integrity (just ask any of them to dissociate themselves from the most obvious lie by other ecofascists); it is unquestionable that ever one of the dozens of world catastrophe stories put about by these obscene animals has proven to be a lie (CAGW merely the latest); it is unquestionable that it has deliberately robbed every human alive of decades of our birthright of human progress (we could & should have had a couple of decades of power "to cheap to meter" and the settlement of the solar system by now).
Say what you like about Adolf Hitler but at least he was no Jonathan Porritt.
---------------------------------------------------
I have made the
Hitler and Stalin comparison before
so I'm not just speaking up as we are winning, but we are winning - a couple of years ago I would at least have been accused of being not terribly nice.
* Labour and Conservatives are falling over each other in the rush to declare they want lower electricity costs despite previous total unanimity on the Climate Change Act (the UK version costing at least £800 bn and the Scottish one being the single most destructive such in the world) and on wishing £3,000 a year bills (twice the current) by 2020.
* They are all (well except the Greens who are a bit slow) backing away from any responsibility for Grangemouth closure, despite, or because of, the owner saying it is their fault not the union's.
* A new paper which, on indisputable calculations, shows that CO2 increase, far from being "catastrophic" -
The monetary benefits conferred by atmospheric CO2 enrichment on global crop production amounts to a total sum of $3.5 trillion over the 50-year period 1961-2011.
We will know the econazi campaign has folded when the world's most fascistic state broadcasting monopoly, the BBC, gets round to reporting it.
*
Return of Arctic ice cap as it grows by 29% in a year.
533,000 more square miles of ocean covered with ice than in 2012
BBC reported in 2007 global warming would leave Arctic ice-free in summer
##############################################
But even if this "hobgoblin" (see the Mencken remark on the masthead) has been killed and those lying totalitarian parasites who pushed retreating in disorder there will be another along in due course as long as big state parasitism is rewarding.
Here are a list of 26 fraudulent scare stories promoted by the ruling class.
(also another 45 that don't perfectly fit.
| | | |
| --- | --- | --- |
| | Population growth and famine (Malthus) | |
| | Timber famine economic threat | |
| | Uncontrolled reproduction and degeneration (Eugenics) | |
| | | |
| | Soil erosion agricultural production threat | |
| | | |
| | Fluoride in drinking water health effects | |
| | | |
| | Population growth and famine (Ehrlich) | |
| | Global cooling; through to 1975 | |
| | Supersonic airliners, the ozone hole, and skin cancer, etc. | |
| | Environmental tobacco smoke health effects | |
| | | |
| | | |
| | | |
| | | |
| | CFCs, the ozone hole, and skin cancer, etc. | |
| | | |
| | Radon in homes and lung cancer | |
| | | |
| | | |
| | | |
| | Dioxin in Belgian poultry | |
| | | |
| | Mercury in childhood inoculations and autism | |
| | Cell phone towers and cancer, etc. | |
Labels: eco-fascism, global warming, hobgoblins