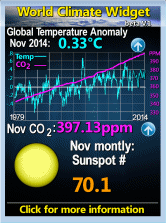 Sunday, October 14, 2012
Al Gore Moves His Investments Out Uf "Renewables" & Into Medical Instruments And Travel to China
if Al Gore has any message for investors today, it might very well be this: "Stay the hell away from alternative energy!" ...
Gore's company files a quarterly report with the SEC that tells a different story (from his public demands for windmills) about the 30 stocks in its portfolio. His company's public investments in wind, solar, biomass and other alternative energy to combat climate change are practically non-existent.
But his portfolio is top-heavy in high-tech, medical instruments, and even more pedestrian investments in companies such as Amazon (AMZN), eBay (EBAY), Colgate Palmolive (CL), Nielsen (NLSN), Strayer University (STRA), and Qualcomm (QCOM).
He is also big in China, with stakes in a big Chinese travel agency, CTrip, and China's largest medical equipment manufacturer, Mindray Medical.
The sad thing is not that Gore is a complete conman, or even that he is an ignorant moron who will rell the most idiotic lies -
here
&
here
- conmen are not rare. The sad thing is that he gets the total support of the lying pensioner murdering Nazi animals including David Cameron, Alex Salmond & the entire BBC who dominare our state and indeed, as the 2nd Gore lie link proves, of the UN liars.