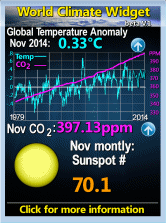 Saturday, June 16, 2012
Some years ago
I wrote of Scotland's Chief Science Adviser's lecture
to the Royal Philosophical Society of Glasgow on catastrophic global warming. In it she assured us that warming "will increase day length in Scotland" but that "a 2 degree rise would melt Greenland" and that sceptics "don't provide evidence"..
I don't think anybody could honestly dispute that she showed herself to be both wholly dishonest and scientifically illiterate. She certainly never disputed that my assessment was accurate.
So unqualified to wash bottles in any scientific establishment. On the other hand eminently qualified to be among the highest ranks of charlatans, climate scientists and
post normal "scientists".
And so
She was appointed as the European Commission's first ever Chief Scientific Adviser in December 2011.


.... In 2009 she was made a CBE (Commander of the British Empire) for services to environmental science.

.....role as Chief Scientific Adviser will include provision of independent expert advice on any aspect of science, technology and innovation as requested by the President of the European Commission.

In her first major interview since being appointed as the European Commission's Chief Scientific Adviser, Glover emphasised the need for science policy to be firmly based on evidence.


I am certain she is exactly what they want & will fit the EU' leader's requirement with all the competence and integrity that organisation ever desires.
##################################
Said by an irony impaired ecofascist teacher
about a pupil who showed dared to ask impertinent questions about his warmist assertions
[the teacher] continued to attempt open dialogue, but the stubborn student continued to argue,
#############################
More irony impairment
Climate Change - Why Do the Facts Fail to Convince?
When faced with having to support one side or the other in important science debates, most people are influenced far more by their cultural and social worldviews than by solid science, no matter how well that science is presented. The public, especially those well-versed in science and mathematics, will usually agree with the side that comes closest to the values of the "tribe" they most identify with. In many cases, the facts don't matter at all.
The author foes not for an instant consider the possibility that it might be those who claim we are experiencing catastrophic warming whose tribe is dissociated from reality.
##############################
Union of Concerned Scientists*
asking about the way climate advocacy groups are funded by industry and on being told the facts, i.e. that government approved alarmists get far even from industry than sceptical ones do.(industrial leaders want to keep in with politicians) censored any mention of it.
* membership is available to anybody with $25, scientific knowledge not required, as
Anthony Watts cat proved.
Labels: eco-fascism, EU, Government parasitism
Comments:
The similarity between the Communist "political advisers" that used to be in every factory and the "scientific advisers" is quite worrying.
Like communism, science is now right irrespective of the facts ... indeed the facts are the dictates of the scientific elites.
To argue with the "facts" (the views of the scientific elite) is now considered to be a sign of madness ... particularly acute, if one refers to that old idea that science is based on evidence.
Post a Comment
<< Home