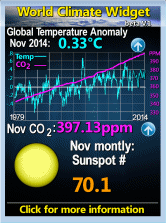 Tuesday, March 27, 2012
A few days ago
Richard Bacon on BBC Radio 5 interviewed James Delingpole
For a couple of hours beforehand he had been advertising his upcoming chastisement of Dellors the "denier" who was opposed to "97% of scientists".
Instead Dellors tore apart the "97%" lie and proved that Bacon was ignorant both of Dellors' book, which it was made obvious he hadn't read, but of any part of the alarmist case as well.
The "97%" claim is widely used by alarmists, not least by the BBC. Here is why it is a deliberate lie.
First, it was the claim that 2,500 IPCC-related scientists agreed with the 2007 IPCC report. Soon after it was discovered that the actual number of scientists who actually agreed with the report contents was only 25.
Next, when the 2,500 shrunk to 25, a couple of University of Illinois researchers conjured up a 2-minute online, anonymous survey that they hoped would deliver some big numbers to crow about. They solicited 10,257 earth scientists and only 77 chose to answer the online survey (yes, only 77). 75 of those "climate scientists" agreed with the survey's two questions (yes, only 2 questions).
Voila, the infamous and widely publicised "97%" of climate scientists (75 divided by 77) who thought man was the cause of global warming turned out to be a numeric joke.
On top of that all the question asked was whether mankind was having some effect on bringing about warming - nothing on whether it was a serious effect let alone one so catastrophic as to warrant spending these billions. On this more later. So of a self selected fraction of a selected fraction of government funded scientists it was only possible to find 75 who supported even the concept of anthropogenic global warming let alone anything catastrophic.
Bacon's ignorance was demonstrated by the fact that, at no time in the interview, did he attempt to introduce any factual arguments. It was entirely that it is the opinion of these 75 and some others but no discussion of any factual basis they may have had. In the end he was reduced to asking "is it possible that these scintists predictions may be right" without even being capable of answering James' response as to what
the specific predictions are. In fact these predictions range from Hansen's 0.5 C a decade claimed in 1988, through the Guardian's claim that the netherlands will be underwater by 2007 (both of which have definitely not come true) through to predictions of warming so low as to be virtually undetectable (which has). Clearly if he doesn't know what his question is it is difficult to complain about the answer.
However to show the problem with fighting BBC corruption - a couple of hours after this attempted demolition.the same channel did an interview with an eco-nutter who wants a ban on Britain exploiting any of the oil in British Atlantic waters, possibly depriving the British people of as many hundreds of billions as have come from the North sea.
The BBC, being bound by its Charter to "balance" and
respecting the law first spent a couple of hours saying how they were going to interview an econazi and then started by asking him a range of hostile questions while interrupting his answers
introduced him as favourably as possible as an "environmentalist", asked him the softest possible and most supportive questions, gave him time, without interruption, to say everything he wanted and even went so far as to editorialise, when the econnazis only serious reason for banning this was that not burning oil would reduce CO2 that
"cutting CO2 is a good thing"
. The BBC thereby proved that they are
a national; news service of unique integrity
a wholly corrupt, propaganda organisation every single employee of whom is obscene scum willing to tell any lie and censor any fact in the cause of the state fascism, no matter how damaging to the country or how many people are murdered by them.
On the more later:
By the standard, or actually far more factual than the standard, which allows corrupt journalists to claim "97%" of scientists on their side (4,810,000 so far) there is an opposite conclusion to be drawn.
The Oregon Petition has a list of 31,487 scientists who agree that not only is there no evidence of CAGW but that
"there is substantial scientific evidence that increases in atmospheric CO2 produce many beneficial effects on the natural plant and animal environments of the Earth"
(ie plants grow better with more CO2).
31,487 + 77 = 31564.
75 equals 0.0023%
31,487/31564 = 99.756%
So, ignoring even the fact that 31,564 is a much larger number than 77 & thus a much more statistically valid sample; that, while in both cases the sample is equally self selected by those who answered it in the latter case it is open to all scientists, in the former it is only open to a small subsection of scientists all, or almost all, of whom are paid by government to hold such beliefs....
Over 99.75% of scientists agree that catastrophic global warming is a lie and that that saying "cutting CO2 is a good thing" is a total lie, at least methodology our MSM aspire to.
This will be going to the world's media and we may say for a certainty that every single honest journalist will be far more willing to publish the 99.75% of scientists say CO2 rise is beneficial than the opposite.
By comparing how close
the number of reports of the 2nd finding
comes to the first
we will be able to determine what precise proportion of our media is in some way honest.
We will also see if Bacon or anybody at the BBC has the honesty to acknowledge that cutting CO2 is not provably a good thing.
Labels: BBC, Fear, global warming
Comments:
31,487 + 77 = 31564.
75 equals 0.0023%
31,487/31564 = 99.756%
This type of lunatic pseudo math once again demonstrates the idiocy and psychosis of Neil Craig.
The Oregon Petition was *not* a petition of climate scientists. It was not even a petition of scientists in *general*. It was an open door invitation to *anyone* who wanted to grind an ideological axe and reject climate science. The National Academy of Sciences specifically repudiated it as nonsense even though the OISM, lying as blatantly as Neil Craig, *claimed* it had the Academy's endorsement.
This has been explained to you again and again and again. But the infectious sheep midges and a low IQ curse you to a life of ignorance and delusion, Mr. Craig.
The Illinois survey specifically focused on *climate scientists*. The reason there were "only" 75 respondents is because the response rate was low, and the baseline number of people whose research focus is climate is not that high in the first place. Climate science is beyond the grasp of most of us (including the idiots who signed their names to the Oregon Petition.) And you don't get to count non-respondents as agreeing with you, Mr. Craig.
James Delingpole (I like the way you can't even keep the name of your own source straight) is a proven idiot and lunatic. When he cannot *find* a quote that embarrasses his rivals, he *invents* them, and even admits they are inventions. He's a fool, Mr. Craig.
Although to his credit, he can at least spell his own name, and if pressed, could probably spell yours as well, Mr. Craig. You might consider returning the compliment.
Post a Comment
<< Home