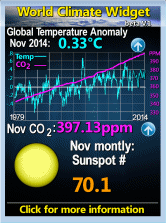 Thursday, November 03, 2011
Bishop Hill has a speech given by Matt Ridley at the Royal Scottish Academy in Edinburgh
which dissects the catastrophic warming scare with beautiful precision and proves, beyond any honest doubt that is is not science but pseudoscience. The first part of the speech defines to difference between science and pseudoscience and I think falls not far short of
Richard Feynman's similar speech on Cargo Cult Science.
Read the whole thing but here is an excerpt:
[Mann's Hockey Stick] has been utterly debunked by the work of Steve McIntyre and Ross McKitrick. I urge you to read Andrew Montford's careful and highly readable book The Hockey Stick Illusion*. Here is not the place to go into detail, but briefly the problem is both mathematical and empirical. The graph relies heavily on some flawed data – strip-bark tree rings from bristlecone pines -- and on a particular method of principal component analysis, called short centering, that heavily weights any hockey-stick shaped sample at the expense of any other sample. When I say heavily – I mean 390 times.
This had a big impact on me. This was the moment somebody told me they had made the crop circle the night before.
For, apart from the hockey stick, there is no evidence that climate is changing dangerously or faster than in the past, when it changed naturally.
It was warmer in the Middle ages* and medieval climate change in Greenland was much faster.
Stalagmites*, tree lines and ice cores all confirm that it was significantly warmer 7000 years ago. Evidence from Greenland suggests that the Arctic ocean was probably ice free for part of the late summer at that time.
Sea level* is rising at the unthreatening rate about a foot per century and decelerating.
Greenland is losing ice at the rate of about 150 gigatonnes a year, which is 0.6% per century.
There has been no significant warming in Antarctica*, with the exception of the peninsula.
Methane* has largely stopped increasing.
Tropical storm* intensity and frequency have gone down, not up, in the last 20 years.
Your probability* of dying as a result of a drought, a flood or a storm is 98% lower globally than it was in the 1920s.
Malaria* has retreated not expanded as the world has warmed.
And so on. I've looked and looked but I cannot find one piece of data – as opposed to a model – that shows either unprecedented change or change is that is anywhere close to causing real harm.
Labels: eco-fascism, global warming, Science/technology
Comments:
I see no sense in abusing people of different opinion - that will not change their minds, only their aggression. Whether climate is changing is not in question, but how much, and whether we can make a positive difference. If economics were not being constantly trumped by short sighted politics, it would be considered insane to squander limited resources, because it would be somebody else ( our children and grandchildren )who would then have to deal with the consequencies. As a farmer I have seen greater variability in the climate in the last three years than the previous sixty. Some may wish to put that down to natural variability, but the consequencies are just as harsh for our food supplies.The technology to make our food supplies less weather dependant exist, but deploying them needs large capital investment which ultimately reflects in the price of food.What would you rather have reliable food supplies, at a price, or cheap food with the occasional famine. That is the real debate.Sandy
Post a Comment
<< Home