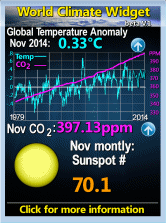 Friday, September 16, 2011
Yesterday - and so to the
Glasgow Skeptics lecture
by
Eugenie Scott
boss of the American self styled "National Center for Science Education" to lecture us on how much creationism and "global warming denial" are equally anti-scientific.
The evidence that being sceptical about warming is thus anti-scientific is that "97% of climate scientists believe it" which is both a lie, it was
"97%" of a carefully selected group of 75
and irrelevant. No other real evidence was produced.
Surprisingly she did mention the 31,000 scientists who signed the Oregon Petition (repeatedly saying 30,000) but said it didn't count because 30,000 is a small % of all scientists (whereas 75 isn't?)
The reason given for creationism not being science is that there is no evidence against evolution which is a perfectly correct assessment but one whose implications for CAGW went unmentioned.
The NCSE appear primarily to exist to lobby schools to "educate" children only in what they believe. This was justified by saying that some industry lobbyists also produce material for use in schools. She gave,an example of such dubious material a leaflet containing the statement in opposition to the CAGW claim that CO2 increase plant and crop growth. If the NCSE is an honest body rather than an organisation of Fascist child abusers then, by definition, that claim must either be proven wrong or at least seriously unproven. In fact there is no real scientific dispute that increased CO2 improves such growth. The experiments have been done, repeatedly, and are conclusive. Ergo Ms Scott and the NCSE are lying, anti-science, child abusing fascists.
Another prominent reason to deny warming "deniers" a platform was that so many of them are of the "economic right" who believe in dreadful things like "individual liberty". Really.
An example of their successful campaigning was given. A parent had complained about his child being shown the Al Gore film without any contrary view, The school had agreed, for balance, to allow a debate on the subject as well. Since Gore's film has been repeatedly proven, in court and elsewhere, to be a pack of lies rather than an "education", while a debate is, by its nature, balanced this is not really balance (that would be giving somebody an hour and a half to tell lies about Gore and the alarmists which might be difficult). Nonetheless NCSE swung unto action and got even that much honest discussion banned. Clearly the term lying, anti-science, child abusing fascists is not overstating.
------------------------
And so to questions:
Patrick Harvie, leader of the Green Party
had his own agenda. Boasting, correctly, that unlike the USA, there is unanimity among our Holyrood parties about CAGW and the need to destroy most of our economy to give an example to rest of the world. Then he got on his new hobbyhorse - the end of any sort of lily livered "compromise" with cigarette smokers. Something with which Ms Scott enthusiastically agreed.I don't remember the Greens mentioning this a few months ago among their election promises but that's how it goes.
Then there was a question from a specially invited creationist. Perhaps they had been unable to find a CAGW sceptic to invite - perhaps not.
Then I got my question - roughly
I suggest that the proper comparison should not be between creationists and warming sceptics but between creationists and warming alarmists. As a teacher of scientific principles you will know that a theory can only be scientific if it is falsifiable, ie that supporters accept some condition under which it can be disproven. Beyond that the principle of Occam's Razor is that one go for the theory with least unknown assumptions. Could you explain what would be required to prove CAGW false and why the inherently simpler theory, that we are not currently experiencing catastrophic warming is not valid. I made mention of the fact that if Hansen's original predictions were correct we must now be 1 C warmer than then and we aren't which appears to be some falsification. Surely since we are expected to spend many £ trillions on ameliorating CAGW we should first have it unambiguously proven

Moreover you have claimed a "consensus" though there are many eminent scientists who disagree. For example Professor Ivar Gaiever has yesterday resigned from his professional body the American Physical Society citing their support of CAGW which he described as a "new religion". In contrast I ask you to name one single solitary scientist, anywhere in the world who supports CAGW and isn't' employed by the state. I recently asked this question of Patrick Harvie, on radio, and 4 other alarmists with him and he couldn't answer it, or be fair be didn't answer it for whatever reason.
Well guess what she couldn't or at least made no attempt whatsoever to answer any of that. She merely repeated ad nauseum that CAGW was correct, that 97% supported it and that there was a consensus. She repeatedly simply refused to attempt to produce any evidence, any falsifiabiolity conditions or name any independent scientist pushing it.
The next questioner did acknowledge that I might have a point in that some alarmists have overstated their case but then spoilt it by comparing sceptics to Nazis. And so it went.
----------------------
Shortly afterwards I was approached by Harvie's halitosical companion who informed me that it was impossible to deny CAGW. Since I had just been doing so I replied that I thought it was perfectly possible to deny that average global temperature had gone up 1 C since 1988 and he said "No it isn't". I will be emailing Harvie to see if he wants to dissociate himself from that claim, since he must know it to be a lie, otherwise it must be taken as representing the standard of honesty to which the Scottish greens deliberately aspire.
I met Mike from the
Scottish Sceptic blog who is working on creating an organistation of real sceptics. Contact him here if interested
.
At the bar we got into conversation with a couple of the organiers of Glasgow Skeptic and they were actually pretty nice guys, surprised and interested in the facts. I did express regret that she had not answered any questions but was told that that was unreasonable because "she isn't a climate expert". Personally I think if you are going to lecture on why nobody should be allowed to express a contrary view you really should be.
In conversation I suggested a public debate between 4 or 6 speakers to air the subject properly and put on YouTube. They were not averse, though they wanted them to be "climatologists". If that is defined the same on both sides I have little doubt we could find our side and suspect they would have more difficulty. However it would have to be put to "The Committee" controlled by somebody who was totally opposed to letting "minority" opinions be heard. I guess this is the difference between "skeptics" and we sceptics.
The lecture should be up on YouTube and I will link to it.
I hope that if the Glasgow Skeptics decide they are not prepared to have a real debate the Scottish Sceptics will.
Mike has blogged on the subject here
. He feels that those using the name "skeptic" have some obligation to be sceptical.
Labels: eco-fascism, global warming, Scottish politics
Comments:
And if the Nazi book burner had read his own link he would know it was a lie:
*They solicited 10,257 earth scientists and only 77 chose to answer the online survey (yes, only 77). 75 of those "climate scientists" agreed with the survey's two questions (yes, only 2 questions).*
If you had actually read the UI article--which you did not, because you don't read--you would know that the researchers had stratified their respondents by specialty. 97 percent of specialists in climate agreed with the two IPCC propositions (significant temp increases in the temp record and whether it was anthropogenic).
And yes it was only 2 questions, because those two questions were the only relevant ones.
It must suck to be illiterate.
Post a Comment
<< Home