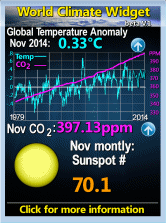 Monday, May 16, 2011
This
is from an article about the maintenance of the no lower threshold theory (LNT) of radiation damage. I
have blogged about LNT
for which, even supporters recognise there is no real evidence, and about the opposite theory, known as
hormesis
, that it is beneficial. For the latter opponents do not say no evidence exists but do try to ignore, or downplay it.
Fear of radiation has proved to be far more detrimental to public health than radiation itself. No actual deaths of U.S. citizens have been attributed to accidental releases of radiation from reactors. But fear of radiation has proved fatal: (1) fear of bearing a "nuclear mutant" led 100,000 European women to choose unnecessary abortions after Chernobyl; (2) thousands of people avoid life-saving medical procedures such as mammograms or radiotherapy because they involve radiation; (3) regulatory roadblocks preventing management of harmless low-level wastes are causing many hospitals to shut down radiomedical treatment centers; (4) thousands of deaths from pathogens infecting seafood, eggs, beef and poultry could be prevented by irradiating food. Moreover billions of dollars have already been spent on trivial radiation risks based on grotesque scenarios about (1) single atoms destined to migrate through miles of desert soil to contaminate a potential water source in some distant future, or (2) measurable radon producing sick buildings which require costly remediation or destruction. Fear endangers human health.
Because the LNT model is deeply entrenched in standard-setting procedures of UNSCEAR, BEIR, ICRP and NCRP (UBIN), their bureaucracies have neither cited, discussed, nor refuted the data and theory contradicting the LNT model. Eventually, politicizing and prostituting scientific principles will erode not only the credibility of scientists, but also public confidence in regulatory institutions. Risk-tradeoff analysis is an ethically necessary replacement for the regulatory vested interests now dominating bureaucratic incentives to "keep the hazard alive" — namely, empire building, legalized plunder, research funding, sales of instruments, and indispensable services to a fearful public. An obsession with hypothetical health effects from but one technology siphons attention away from widespread harms claiming the lives of human beings daily.
This criticism also applies to most government and ecofascist scare stories promoted by those in power because "The whole aim of practical politics is to keep the populace alarmed (and hence clamorous to be led to safety) by menacing it with an endless series of hobgoblins, all of them imaginary."H.L. Mencken
The demonising of nuclear power has killed at least 19 million through fuel poverty. The
DDT scare has killed 70 million
, mainly African children, through malaria. the Anti-GM scare contributes to world starvation. The global warming scam has cost trillions which, as Bjorn Lomberg has pointed out, could have saved and improved hundreds of millions of lives through things like providing purified water. The war on the probably long dead bin Laden has killed perhaps a million Iraqi's and many many others. The Health and Safety Executive's regulations not only occasionally kill people but even the maximum they may save is about
1,000th of those they kill through reducing national wealth.
What all of these have in common is that they are anti-technology scare stories which act as "hobgoblins" to increase the power of political parasites and regulatory vested interests. Statistically it is simply impossible those politicians who support these scares and do not support other things which would greatly improve human well being and/or reduce real risks (economic growth/hardening infrastructure against solar flaring/distributing vitamin d/space development/market freedom) which would not increase their power to be promoting ecofascism in ignorance and to really have the interests of the people they "serve" in mind. They simply must, 99.9% or more, be deliberately lying to promote false fear stories.
Labels: eco-fascism, Government parasitism, Hormesis
Comments:
REMOVAL OF PATHOGENS FROM MEAT & FISH
There is now a system which is highly effective and does not involve irradiation or strong chemicals. It goes under the brand name IPURA and is just being launched in large retail outlets in the US, having been trialled for many years and providing trackable quality assurance from fish factory or butchery to supermarket shelf. The company is called Global Food Technologies.
I'm a bit biased because I'm a shareholder but it provides a definitive "kill step" for harmful bacteria.
Post a Comment
<< Home