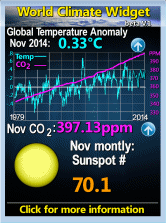 Tuesday, April 05, 2011
Sir,
A few days ago, following yet another formal public debate, yet again won by the sceptics (and yet again unreported by the media) on of the warmist speakers, Simon Singh, sent his opposite number 5 questions, all of which boiled down to "do you accept what the great and good government funded experts say". He got a reasonable answer from
Fraser Nelson
and from
James Delingpole
However Singh's action has implications. If he considers sceptics have a moral duty to answer such questions then he and other warmists must have too. So on Sunday i sent 5 questions to him and when he hadn't replied on Monday,
put them on his blog
, extending them to 7. This, done very much in the style he used, is what I asked:
1 - Do you accept Professor Jones' acknowledgement that there has been no statistically significant warming since 1995?
2 - Do you accept that the rise in CO2 has improved crop growth by around 10% & that the consequent influence on world hunger is more beneficial than any currently detectable destructive action of alleged global warming?
3 - Do you accept that the Hockey Stick, as originally presented by Mann and the IPCC contained calculations that were inconsistent with good science and that Mann's refusal to make calculations and algorithms available for checking were inconsistent with scientific principle?
4 - Do you accept that many claims from people and organisations on the alarmist side, from Al Gore's claim that South Sea islands had already been abandoned due to rising sea levels and Pachauri's claim that any dispute that the Himalayan glaciers will have melted by 2025 was "voodoo" are wholly, completely and totally untruthful and would have to be openly denounced by anyone on the alarmist side who has any trace of honesty?
5 - Do you accept that there are a number of geoengineering solutions which arithmetically can be shown would work (including stratospheric dust, the geritol solution or even just replacing CO2 burning with nuclear power) which would work at a small fraction of the cost of the war against fire, or in the case of nuclear, at negative cost?
6 - Do you accept that the refusal of alarmists to denounce fraud on their side, or even its active support or covering up, detracts from the credibility of the entire movement?
7 - Of the alleged "consensus" - can you name 2 scientists, out of the roughly 60%, worldwide who are not paid by the state, who support catastrophic warming & if not can you explain how something can be a consensus when no member of a subset of 60% of the alleged consenting, consent?
Imagine my surprise that he has, so far refused to answer. Just for fun I also sent the same questions to Professor Jones (head of the British investigation and producer of the "hide the decline" email), Michael Mann (US inventor of the Hockey Stick theory now proven mathematically false), Sir Paul Nurse (head of the Royal Society), Sir John Beddington (Britain's Chief science Advisor), Alan Thorpe (head of the £450 million a year warming propagandist quango NERC who, some years ago, challenged sceptics to a public debate and disappeared when the challenge was accepted), Roger Harrabin (BBC Environmental correspondent and the public face of UK warming alarmism) & last and least Ann Glover (Scotland's Chief Science Advisor and the one who said warming would increase day length).
Imagine my surprise that not one of them has answered any of the questions. To be fair I did get an email from the BBC's Harrabin saying it was "offensive" to even ask doubting questions and blocking me.
Could it be that though alarmists believe, correctly, that they have the right to question sceptics, they all believe they personally are so elevated that nobody should ever ask them anything, even if they could answer it? Or are they all perfectly well aware of what the true answers are and that answering even one of those questions would show how bereft of truth and intellectual rigour the entire catastrophic global warming scare story is? If there is a 3rd option I would like to know what it is.
Ah well I will just have to keep searching for 1 promoter of the warming scare who is actually willing to try and answer difficult questions. That is the reason for this letter. Perhaps a reader will try if this publication's environmental correspondent declines.
Perhaps a senior member of one of our political parties who (apart from UKIP & the BNP) claim to believe the story and wish to tax us more and destroy most of our electricity supply on the back of it.
Perhaps somebody, anywhere, in the BBC will feel able to.
Perhaps 1 member of the Scottish Parliament, all 5 of whose parties voted unanimously to destroy 58% of Scotland's electricity capacity, which also means about 58% of the Scottish people's national income over the next 9 years can. Certainly anybody, with any honesty, making a decision so destructive of our lives must have developed an expert understanding of the alleged problem and be eager to explain their decision. It will be interesting to see how many of the 129 have such integrity.
********************************
Posted as a letter to almost all our national and some international media, as well as the BBC, ITV,C4, C5
and the political leaders and parties. ANY of these who actually honestly believe any of the warming scam and answer the questions will be reported here, as will papers who feel able to publish it (I will make a point that reasonable cuts would be ...well.... reasonable.
Labels: eco-fascism, global warming, Media
Comments:
I for one don't believe that the rise in CO2 has improved crop growth by around 10% nor that the consequent influence on world hunger is more beneficial than any currently detectable destructive action of alleged global warming. For the very simple reason that I have seen no evidence to support the 10% figure.
well Hengist perhaps the reason you "have seen no evidence" is because you refused to look.
http://a-place-to-stand.blogspot.com/2010/02/co2-rise-means-for-crops-means-thethe.html
We may now expect your retraction here and on Simon Singh's blog, unless it turns out you are not thopusnads of times more honest than the average eco-fascist. Some hope :-)
Post a Comment
<< Home