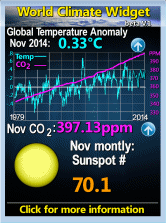 Friday, December 24, 2010
UNPUBLISHED SCOTSMAN LETTER
To be fair the Scotsman hace published another couple of letters answering Scottish Renewables. However the disgraceful fact, as highlighted here, is the blatant refusal of the entire media to ever report how fakecharities are being used to control "free" discussion:
The letter from Scottish Renewables claiming 1/5th of electricity comes from "renewables" is exaggerating, though not by as much as a previous letter from them in another Scottish paper which claimed 1/4. The true figure is 18% of which 10% is hydro power - a source virtually unchanged for 50 years.
A billion pounds a year put into subsidising windmillery for a decade has produced only 8% of our power (easily the most expensive 8%). It is arguable that Holryood's unanimous decision to cut 58% of our electricity capacity over the next decade on the promise that windmills will provide a full replacement are the ravings of people who have lost their grip on reality. Particularly when it is done in the name of preventing the catastrophic warming which, according to a government spokesman by today guarantees "Children just aren't going to know what snow is."
May I also suggest that since
Scottish Renewables is not a citizens movement but a propaganda organisation part funded by those subsidised & part by various government organisations "reader's" letters is not an appropriate venue for them - at least not without the caveat that they (& indeed very many other organisations seeking to tell us what to do or get us to pay more through government) are pipers being paid by the state. I regard this as a serious threat to our liberty & very much regret the failure of the media to distinguish between independent & government funded bodies.
Neil Craig
Ref - true electricity figures -
http://www.scotland.gov.uk/Topics/Statistics/Browse/Business/Corporate
Government spokesman's claim
http://www.independent.co.uk/environment/snowfalls-are-now-just-a-thing-of-the-past-724017.html%20he%20is%20,%20of%20course,%20stil;l%20working%20for%20government%20promiting%20warming%20alarmism
Labels: Government parasitism, Media, Scottish politics