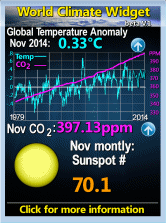 Thursday, February 11, 2010
This is a reply I have put to David Brin, eminent physicist & SF writer who has said the climate sceptics are attacking science. I do not oppose such as him lightly
]]]]]]]]]]]]]]]]]]]]]]]]]]]]]]]]]]]]]]]]]
I respect Mr Brin but his core statement that "99% of atmospheric scientists support warming" simply isn't so. Atmospheric scientists would include Professor Fred Singer, doyen of sceptics. The true believers are a smaller & much newer "discipline" calling themselves climate scientists but actually just climate computer modellers, a predictive process whose predictions have, for example in the unpredicted cooling of the last few years, failed to match reality. If this small group saying this means, as the media so often say, that "The Science says.." then the case is equally strong for the science of astrology. 99% of those making a living at it say it works too.
It is worse than that - I have asked many thousands of journalist, politicians & alarmists to name 2 scientists who say catastrophic warming is correct & aren't government funded & only 1 name worldwide has emerged. It is a statistical impossibility that this correlation between government control & alarmism is a coincidence. If belief is not more widely spread it, by definition, isn't a consensus.
In philosophical terms the risk to science comes from those who misuse its name to promote its opposite & here scientists who, for the sake of a quiet life kept silent should take a little blame. However the main blame goes to those who actually pushed the lie. By comparison virtually no MSM journalist has even mentioned that the largest single expression of scientific opinion, the 31,000 who signed the
Oregon Petition,
believe catastrophic warming is nonsense & CO2 rise is actually probably beneficial.
I have listened patiently & at length to alarmists even though almost none of them have said they support substantial new nuclear reactors despite the fact that this is the only practical way to produce enough power without CO2. I regard this as a touchstone as to whether alarmists believe their own tale since if they genuinely believed they faced catastrophe they would not let ideology prevent them preventing it.
There are an increasing number of scare stories being used by politicians & their media handmaidens that falsely claim the mantle of science. The original & one of the least questioned & which has cost humanity 10s of trillions over the decades is the linear no threshold (LNT) radiation damage claim. Though this is adopted in the name of "science"
there is not & never has been any experimental support for it, indeed there is massive support, from many directions, for the opposite, known as hormesis, that low level radiation is beneficial.
Science needs a Reformation in which experimental principles are what matters & what the government paymaster wishes were so isn't.
UPDATE 2 days later the self styled "Institute for Ethics in Emerging Technologies" have decided their conception of ethics does not involve free debate & have decided to censor it. I blogged earlier about the way political activists attempt to aquire credentials, particularly scientific ones, to which thay are not entitled to make themselves seem more credible. I know nothing more of the "Institute for Ethics" than its title, that it promotes climate alarmism & how it has dealt with dissenting views. I have emailed David Brin directly.
Labels: global warming, Government parasitism, Science/technology
Comments:
This is all complete drivel.
Most scientists get some form of government based support. This criterion is pre-designed to exclude everybody who knows anything... even planetary atmospheres guys at JPL, who have studied climate on 8 planets and gain nothing from "clean energy"...
...ALL of whom sigh in despair over nincompoops like this fellow here.
Who is incapable of letting facts through... like that most of the support for nuclear power, today, is coming from the Democrats. Obama just announced huge loan guarantees to restart the industry, something the GOP under Bush NEVER tried to do...
I could go on, but it is pathetic. Come to
http://open.salon.com/blog/david_brin/2010/02/11/distinguishing_climate_deniers_from_skeptics
for a detailed analysis of the weird thinking that underlies this nonsense.
Post a Comment
<< Home