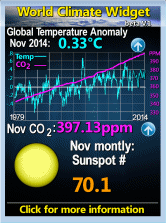 Saturday, December 19, 2009
"We're expecting a snowstorm here - rather appropriate when we're talking about climate change"


The

BBC's

Mark

Mardell

on the main news yesterday from Washington explaining why Obama had to return from the Copenhagen Global Warming, er sorry "climate change", conference or risk not being able to land because the airport would be snowed out.

Ok this is actually last Jan
Good for China. They didn't flinch & have saved us all from almost all of this
eco
-fascist parasitism (well except the bits we Europeans have insisted on saddling ourselves with). Continued world growth is assured even if our government continues to promote recession.
This may be the moment when China, supported by India & Brazil, has become the world's dominant power - not because they
have
done so well but because we have done so badly.
After "global warming" being the EU stick to demonstrate our moral superiority over the rest of the world, & slow them growing so much faster than us rather than trying to improve our own, the Americans, Chinese, Indians & Brazilians dealt the EU out of the game & have done their own deal.
This "agreement" commits nobody to anything except

woffle
. There is a promise of $10
bn
annually collectively to help the 3rd world fight global warming but likely this will just be existing aid repackaged/not forthcoming as everybody passes the buck. There is also a promise of $100
bn
in 10 years when all the
promisees
are out of office. Assuming the sea level hasn't risen by then (it isn't) & the Sahara expanded (it is contracting) I don't think that will get beyond Mugabe's successor hypocritically demanding it to stop the tide covering his people & western leaders hypocritically promising to deliver as soon as the economy is healthy.
I hope the Chinese ultimately acknowledge their debt to Stephen McIntyre. As I said yesterday
The person who really brought this about is Stephen McIntyre who by determination, dogged persistence over years & sheer mathematical ability has, modestly, courteously & without rancour despite the most appalling unjustified personal attacks, slowly & painstakingly proven that every article the catastrophic warming Emperor was wearing was non-existent.
Labels: global warming, International politics, Media