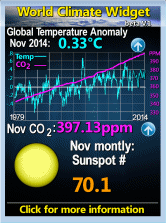 Tuesday, June 30, 2009
I sent an email to Margo MacDonald the independent Scottish MSP & husband of
Jim Sillars
formerly leader of Labour in Scotland, his own Scottish Labour Party & then an SNP leader but it was blocked. Jim has been undoubtedly the most eloquent person in Scottish politics & arguably the most sincere to reach a senior level.
This is his letter,
or I suspect the edited version, in the Scotsman today.

Bill Jamieson (Opinion, 26 June) refers to the Scottish Parliament's Climate Change Act as twaddle. If it was only twaddle it would be of little matter. It is, however, another collapse of reason in the face of the new Green religion, which worships computer model projections of catastrophes to come, scaremongers with them, and rejects the views of those who disagree as heresy.

There are many people who do not go along with the global warmists. However, so successful have the new religious priests been in their scaremongering and accusations, they are afraid to speak out. I'm glad to see Bill Jamieson is made of the right stuff.

This is the returned email:
Margo MacDonald,
How could you have voted to destroy 42% of Scotland's industry, to impoverish her people & ultimately to bring early death to millions of them when your husband has such an intelligent letter in the Scotsman?
If you don't know it is a fraud that might be an excuse for abstaining but it is not one for voting for it.
If you don't know you should sign up on
http://abob.libs.uga.edu/bobk/cccmenu.html
[CCNet]
Perhaps you would also send that link to Jim since, if he has not already signed up I think he would wish to.
Labels: global warming, Scottish politics
Comments:
If you had actually read it before commenting Norman you would have realised that the remark you are going to report me to the police for was said by Jim Sillars & published in a prominent newspaper.
Don't let that stop you. Remeber however that the LibDems are all guilty of crimes rather more serious than speakingb honestly.
Post a Comment
<< Home