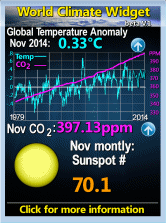 Thursday, April 23, 2009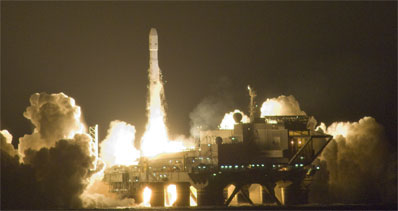 This is a picture of the launch of a commercial satellite SICRAL 1B by the Sea Launch company. Sea Launch do their launches from the sea, ;-) specifically from the equator, because the nearer the equator the more help you get from the spinning of the Earth. The Scottish connection is that the specially designed ship
Sea Launch Commander
was built in the Kavaerner shipbuilders in Glasgow. It converts on site from a normal ship to a stable, oil rig like, platform.
20 APRIL 2009 On today's mission, a Zenit-3SL vehicle lifted off at 1:16 am PDT (08:16 GMT) from the Odyssey Launch Platform, positioned at 154 degrees West Longitude. Less than two hours later, the Block DM-SL upper stage inserted the 3,038 kg (6,697 lb) SICRAL 1B satellite into a high perigee geosynchronous transfer orbit. Telespazio's operators at the Fucino Space Center in Italy acquired the spacecraft's first signals from orbit during flight operations and confirmed the health of the spacecraft shortly after its separation from the Block DM upper stage. Based on preliminary data, all Sea Launch system flight parameters were nominal and injection accuracy was excellent...

"This is our 30th mission from sea -- a milestone that reflects the sustained efforts of the world's most internationally integrated launch team and demonstrates the tremendous feats that can be accomplished through global cooperation, while serving a global market. Congratulations to the Sea Launch partners, contractors and the entire team on this significant milestone and for another launch flawlessly executed."
This is it
It previously
successfully delivered Intelsat's Galaxy 19 satellite to orbit on September 24, 2008, in a flawless mission. The first signal from the satellite was acquired at the Hartebeesthoek ground station immediately after spacecraft separation. Weighing 4,690 kg (10,340 lbs), this high-power C-band and Ku-band satellite will provide communications services to customers throughout the United States, Canada, Mexico and the Caribbean islands.
Extensive details & pictures are available on the
Sea Launch website.
The company is a partnership of Boeing Commercial Space Company(US), RSC Energia (Russia), SDO Yuzhnoye / PO Yuzhmash (Ukraine) & Aker ASA Group (Norwegian & successor to the Kavaerner group). Perhaps such free market internationalism is the way forward.