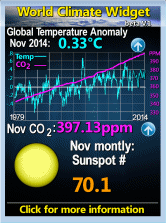 Tuesday, December 09, 2008
POLL - HOW MUCH SHOULD THE GOVERNMENT SPEND?
Here is my poll question:

How much of the national economy should, in an ideal society, be spent by the state?

This means all the money spent by the state - defence, administration, quangos, police etc but also social security, NHS, education, rail & windmill subsidies, X-Prizes etc.

I would be really interested in knowing what people would like the answer to this to be so please take a few seconds to answer it. Call it research.



I have put this poll both here & on my 9% Growth party blog so it is likely responses here will largely reflect people who are not regulars on aA Place to Stand.

Comments:
NC, you are going to have to clarify what you mean, preferably in the body of the post.
Does that just mean true gummint spending (core functions and quangocracy) or does it include redistribution, like welfare and 'free at point of use' education and NHS (which ought to be replaced with vouchers, different topic)?
If the former, my answer is 0 - 9%, if the latter, my answer is 30% - 39% (or possibly 20% - 29%).
Have done so - I mean ALL the government spending so that puts you around 30% - still well below the current UK 43% & rising.
Post a Comment
<< Home