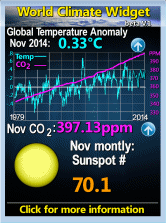 Tuesday, February 05, 2008
WHY HAVE THEY STARTED CALLING IT "CLIMATE CHANGE" INSTEAD OF "GLOBAL WARMING" THEN?
China today
"Global warming can mean colder, it can mean drier, it can mean wetter, that's what we're dealing with."
--Steven Guilbeault, Greenpeace 2005
Indeed. Words to be carved in stone, or even in ice.
Presumably "climate change" can mean anything the media want whereas "global warming" would lead the uninitiated to think some warming was involved.
Comments:
Most people are too stupid to understand what Chaotic Systems are, and thus lack the mental agility to be able to comprehend that a rise in Mean Ambient Temperature of the atmosphere - quite rightly called Global Warming - can actually result in freezes and cold snaps as well.
However, the melting ice caps are a bit difficult to argue with and fairly easy to grasp I would have thought?
I have always assumed Climate Change was just a devisive term thought up by spin doctors and used by idiots.
I like Jeremy Clarkson as a comedian, but he can use his ill informed nonsense attempting to debunk Global Warming as a speed hump and drive over it in one of those cars he knows less about than he lets on. :)
Post a Comment
<< Home