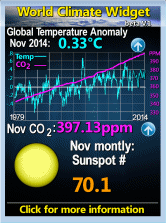 Wednesday, November 14, 2007
It seems my prediction that the chance of the BBC reporting the ocean microbe CO2 hoax being greatly improved by being proven untrue has turned out to be on the money. This from David Thorpe's blog
I was interviewed for BBC World Service's Newshour last night which you can listen to for a while on their website (the 20.00 hrs edition, about 20 minutes into the programme).
He then follows up with this
1. I wish the sceptics would spend more time looking at the evidence for global warming and not waste their time with conspiracy theories: there aren't any.

2. The writer of the hoax is anonymous because we may be thinking of another. It wouldn't have my name on it.
The meaning of the word "irony" seems to be unknown to this ass as indeed is the definition of "conspiracy".
Which leaves some room for enquiry as to whom the "prominent environmentalist" is who did the heavy lifting in this conspiracy, by actually knowing enough science to write it. I would like to put forward a couple of runners.
George Moonbat, like him, is a Guardian journalist & makes considerable play of his ability to at least read scientific reports & pontificate on them.
Alan Thorpe
the head of the NERC (government's science grant giving body). He has been prominent, in the same Guardian, promising to debate with sceptics in print or online but reticently declined to answer when one of the world's most prominent sceptics took up the challenge. It would certainly be improper of the head of a serious scientific body to get involved in such a hoax but arguably not much moreso than for a scientist duty bound to distribute scientific grants impartially taking sides in the subject under research. Thorpe is not a particularly common name. I should say that David has denied any connection with him & somewhat less credibly, ever having heard of this prominent alarmist. Alan Thorpe declined to answer my email.
Comments:
Indeed a fine example of BBC impartiality. They asked for whistleblowers on sceptical science being censored & "only" got 4, not counting 3 others which were already known & undeniable & therefore should be ignored
Post a Comment
<< Home