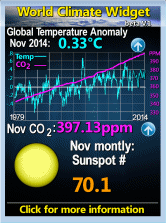 Friday, June 29, 2007
Tunguska
Jerry:
The tunguska event caused global warming? The theory is that noctilucent clouds of ice crystals changed the world's thermal balance.
<
http://www.physorg.com/news11710.html
>
Abstract: <
http://arxiv.org/abs/physics/0510042
>
Chris C
It always helps to find out what's going on...
I responded:
This would fit with the early 20th C warming which went up to 1940. However it then leaves the warming from 1975 to 1998 (promised to start rising again real soon now since 1999 to 2007 are said to be merely statistical outliers). This may not disappoint the warmers but the real lesson is that we do not know.
However if putting more water into the stratosphere really turns out to induce warming & it seems already agreed that putting up sulfur reduces it we would have our hands on the levers of climate control without having to declare war on fire.
Actually the idea of our present political leaders being able to easily control the climate, however much it undercuts the warming scare, is not particularly reassuring.
Neil Craig
As you say, the bottom line is that we do not know