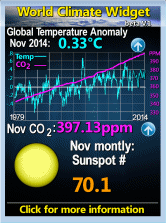 Monday, May 14, 2007
For many years the Union of Concerned Scientists have been giving their valued, ecologically aware & very politically correct, scientific opinion to the newspapers (which to often duly reported them). So how does one qualify to become a concerned scientist? Is it tougher than becoming a lackadaisical scientist?
What it takes is $25 (£12.50).
https://secure.ga3.org/03/become_a_member
If you feel like splashing out $35 you can become a scientist with his own free mousemat.
I am currently offering to make you enormously attractive to members of the opposite sex. Join the Union of Sex Gods & Goddesses at the low introductory price of £10 sent to me. For £20 you get a can of Lynx as well which is guaranteed to at least double the effect.