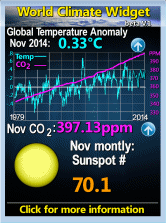 Friday, May 04, 2007
You say the only alternative to nuclear war is world government. There is only one possibility worse than nuclear war for the survival of modern civilization, and that is world government. Civilization might recover from the damage of a nuclear war, but judging by past static empires in Egypt and China, it might never recover from world government, there being no chance of external intervention. As it is, present governments are only prevented from becoming dominated by crazy ideas that will suppress all opposition by the existence of other governments. The only way a people can be sure that their government is substandard is that it does worse than those of other countries.
From Professor John McCarthy's site, page on current events (some pretty old now). He also writes in favour of invading Iraq - something with which I disagree but primarily on the grounds that international law is the best defence we have against the world rule mentioned. Thus the relative defeat of the US in Iraq makes it much less likely that they will attempt to establish monolithic global rule.Professor McCarthy's site alwys provides something to think about, perhaps particularly when you disagree.