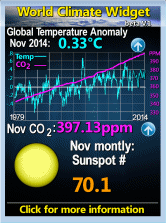 Tuesday, May 29, 2007
Well the
Russians are dismissive of a new Kyoto
treaty. Not entirely surprising since they only signed up for the first one as part of a deal for EU support in joining the WTO. On such a basis are the great scientific consensii of our times decided.
"In reality, the scientific basis for the protocol is fairly weak," Federation Council Speaker Sergei Mironov told a crowded opening session of the two-day conference Thursday, which drew more than 200 environmental experts and carbon market participants from around the world. "In the opinion of many experts, the emission of carbon dioxide into the atmosphere does not have any effect on the climate."

In fact, a process of "global cooling" is now taking place, Mironov argued ...

....Most troubling for some of the delegates was the news that the event's chief organizer was not allowed into the country Wednesday.

Jorund Buen, the director of Point Carbon, a leading carbon emissions consultancy, had to fly back to Oslo from St. Petersburg after experiencing "a slight visa problem," said Christian Sommer, the Point Carbon analyst who addressed the conference in his place. "We had our Kiev office on the phone all night trying to find a solution," said another Point Carbon associate. "Mr. Buen was very upset."

The mood of the event never seemed to recover from the government's apparent snubs.

"It was clear at that point what the message was," said Martin Kruska, director of 3C Group, a climate change consultancy based in Frankfurt, Germany. "We might as well go home."


So with this farce now rejected by Russia, America, China, India & with Japan keeping its head down the isolation of the sceptics means they are all isolated from the EU (excluding the Czechs) & ..... well that's about it.
An interesting factor however is the coverage of this. As of today (it may improve)
this has been reported by approximately zero British or European papers
. Good to know our media can be relied on to maintain their normal level of balance. Had he warned that "global warming is more serious than previously believed" it would have been headline stuff.