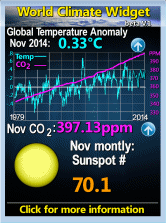 Friday, March 23, 2007
An article by writer Orson Scott Card
on how Stephen McIntyre proved that the Hockeystick theory of global warming was wrong. More importantly that Michael Mann, who produced it hid the details in such a specific way that there can be no reasonable doubt that he was not incompetent, but engaged in deliberate fraud.
And that the IPCC & the numerous journals which refused to publish the evidence but were willing to publish gratuitous attack on him, either also knew it was a fraud or would have if any of the hundreds of researchers involved had cared to look.
Here's the amazing thing about Mann's original report: He's not the only researcher working in this field. In fact, it's the job of many hundreds of researchers to refuse to accept his data at face value. After all, his findings disagree with everyone else's. Before they accept his results, they have a duty to look at his software, look at his data, and try to duplicate his results.

But nobody does it. Not a soul.........

So Steve starts digging. First, he read's Mann's original report. He finds it an exercise in obscurity. From what he published, it's very, very hard to tell just what statistical methods Mann used, or even what data he operated on.

This is wrong -- it's not supposed to be that way. Scientists are supposed to leave a clear path so other people can follow them up and replicate their research.

The fact that it's so obscure suggests that Mann does not want anyone checking his work.

But Mann used government grants in his research. Which means he has an obligation to disclose. Steve contacts him, asks for the information. He gets a runaround. He gets pointed to a website that does not have the information. He tries again, and again gets a runaround -- in fact, Mann sends him a very rude letter saying that he will no longer communicate with him.........

But Steve is now sure there's something fishy going on, and he doesn't give up. He gets other people to help him. Finally they are pointed to a different website, where, to their surprise, they find that someone has accidentally left a copy of the FORTRAN program that was used to crunch the numbers. It wasn't supposed to be where Steve found it -- which is why it hadn't been deleted.......

What's crucial is that Steve now understands why the "censored" data sets are smaller than the ones Mann used. The full source data includes those misleading results that shouldn't have been used. But the "censored" data sets leave it out.

This means that Mann knew exactly what he was doing. This was not an accident. Mann ran the program on the data without the misleading numbers, and then he ran it with the misleading numbers........

Meanwhile, serious publications did publish Mann's savage response to what Steve was saying on the website where he was putting up his results for everyone to read.....

The Hockey Stick Hoax should be a scandal as big as the discovery of the Piltdown Man Hoax. Bigger, really, since so much more is at stake.

But because the media are dominated by True Believers, they are doing everything they can to maintain the hoax, to keep the public from learning the truth.

What were those bad numbers Mann plugged in to get his fake results? Modern bristlecone pine tree-ring data in which recent tree rings showed the widths that would normally mean unusually warm weather.

However, these trees were located near temperature recording stations that showed lower than usual temperatures. So instead of being a sign of warmer temperatures, the tree rings are actually responding to the increased CO2 levels......

If you pay close attention, you'll find that Global Warming alarmists are not actually saying "Global Warming" lately. No, nowadays it's "Climate Change." Do you know why?

Because for the past three years, global temperatures have been falling.

Oops.
The IPCC & all those scientific journals owe Stephen McIntyre a fulsome public apology. Everybody in any way involved in supporting the warming scare should publicly demand they do so & that all those individuals who failed in their duty to exercise proper scepticism or who attacked McIntyre for what he said without giving him space to say it, are unfit to hold responsible scientific positions. Obviously anybody who maintains catastrophic warming without being willing to denounce the IPCC's position on the Hockeystick is, under no circumstances, to be trusted.
Comments:
I would be very happy to have anybody read Norman's link side by side with Mr Card's. I think it quite obvious which is a detailed examination & which is a mmisleading sales pitch. It may be unfair to judge the entire catastrophist scare on this basis.
The answer to the question is that the IPCC thought it so important that they used the Hockeystick graph repeatedly as their main graphic presentation throughout their report.
Post a Comment
<< Home