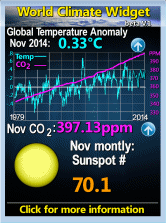 Friday, March 16, 2007
This article
on what is wrong with science is in the Guardian. What is wrong with science is that it seeks the truth, even when it is inconvenient. This, in a long & convoluted way is what "Professor" Hulme says. I possess potted plants with more understanding of science, more integrity & more right to be called professor than Mr Hulme.
He does Professor Fred Singer the honour of taking him & his respect for old fashioned scientific truth as the text for his sermon. If they are handing out professorships (even of "Environmental Science") to idiots like this the University of East Anglia should be closed down & turned into something more useful & honourable - like a brothel. Ditto the Guardian.
One of the central reasons why there is disagreement about how to tackle climate change is because we have different conceptions of what science is, and with what authority it speaks - in other words, how scientific "knowledge" interacts with those other realms of understanding brought to us by politics, ethics and spirituality.......

This,(that warming is a natural phenomenon which has happened many times before) of course, is not what the fourth assessment report of the UN Intergovernmental Panel on Climate Change (IPCC) said a few weeks ago. The report from its climate science working group concluded that it is likely that most of the warming of the last 50 years has been caused by rising greenhouse gas concentrations and that, depending on our actions now to slow the growth of emissions, warming by 2100 will probably be between about 1.5C and 6C.

The upper end of this range is almost an order of magnitude larger than the warming that Singer and Avery suggest is caused by the 1,500-year cycle. So is this a fight between scientific truth and error? This seems to be how Singer and Avery would like to present it - "science is the process of developing theories and testing them against observations until they are proven true or false".......

The other important characteristic of scientific knowledge - its openness to change as it rubs up against society - is rather harder to handle. Philosophers and practitioners of science have identified this particular mode of scientific activity as one that occurs where the stakes are high, uncertainties large and decisions urgent, and where values are embedded in the way science is done and spoken.

It has been labelled "post-normal" science. Climate change seems to fall in this category. Disputes in post-normal science focus as often on the process of science - who gets funded, who evaluates quality, who has the ear of policy - as on the facts of science.
So this book from Singer and Avery can be understood in a different way: as a challenge to the process of climate change science, or to the values they believe to be implicit in the science, rather than as a direct challenge to scientific knowledge.........

do we have confidence in technology; do we believe in collective action over private enterprise; do we believe we carry obligations to people invisible to us in geography and time? - masquerade as disputes about scientific truth and error.

We need this perspective of post-normal science........

The danger of a "normal" reading of science is that it assumes science can first find truth, then speak truth to power, and that truth-based policy will then follow. Singer has this view of science, as do some of his more outspoken campaigning critics such as Mark Lynas. That is why their exchanges often reduce to ones about scientific truth rather than about values, perspectives and political preferences. If the battle of science is won, then the war of values will be won

........In fact, in order to make progress about how we manage climate change we have to take science off centre stage.
......."identify what level of greenhouse gases in the atmosphere is self-evidently too much".

This is the wrong question to ask of science. Self-evidently dangerous climate change will not emerge from a normal scientific process of truth seeking, although science will gain some insights into the question if it recognises the socially contingent dimensions of a post-normal science. But to proffer such insights, scientists - and politicians - must trade (normal) truth for influence. If scientists want to remain listened to, to bear influence on policy, they must recognise the social limits of their truth seeking and reveal fully the values and beliefs they bring to their scientific activity

Applying theses rules to witchcraft trials it is obvious that he would require "scientists" to witness that the witches were all indeed flying around on broomsticks & should be burned because that was the alternative to truth that "power" wanted spoken. Had he & his ilk had their way we would still be burning witches & dying of smallpox.
It is not merely that "professor" Hulme is an idiot, though he selfevidently is, but that he is a prostitute. As is the "University" of East Anglia for taking on such a person.
British university education seems to be encouraging such persons like this. I had thought
Professor Twaddle
to be a one off.
Comments:
I've wondered whether I should respond to this post, not least because the original article is not particularly well written and I am not particularly up on the philosophy of science. However, the subject is an interesting one which is why I continue to read your blog. So here's my reaction.
You are extremely angry about this article but you do not do a good job of explaining why. I think this is because you expect everyone to share your view of scientific method, which seems to me a rather narrow, old-fashioned, positivist one [see 'Positivism' here: http://en.wikipedia.org/wiki/Positivism ]. The little I know about scientific method indicates that the Twentieth Century moved us towards acknowledging the difficulty of measuring things accurately and the effect that the observer has on the thing observed by changing it.
Hulme's article is basically about 'Post-normal Science'. I understand the main authors of this concept to be Funtowitz and Ravetz who explain it better here:
http://www.nusap.net/sections.php?op=viewarticle&artid=13
They say that "In relation to policy, "the environment" is particularly challenging. It includes masses of detail concerning many particular issues, which require separate analysis and management. At the same time, there are broad strategic issues, which should guide regulatory work, such as those connected with "sustainability". Nothing can be managed in a convenient isolation; issues are mutually implicated; problems extend across many scale levels of space and time; and uncertainties and value-loadings of all sorts and all degrees of severity affect data and theories alike."
In particular they stress that different observers bring different perspectives to an investigation "For an example of this plurality of perspectives, we may imagine a group of people gazing at a hillside. One of them "sees" a particular sort of forest, another an archaeological site; another a potential suburb, yet another sees a planning problem. Each uses their training to evaluate what they see, in relation to their tasks. Their perceptions are conditioned by a variety of structures, cognitive and institutional, with both explicit and tacit elements. In a policy process, their separate visions may well come into conflict, and some stakeholders may even deny the legitimacy of the commitments and the validity of the perceptions of others."
Funtowitz and Ravetz go on to suggest that the 'Post-normal' method is one way of addressing the problems of uncertainty and complexity in formulating policy. A useful brief critique of the concept is found here: http://en.wikipedia.org/wiki/Post-normal_science .
I find all this intriguing. I have not made my mind up about 'Post-normal Science' so I'm going to read the articles again at leisure. I am obliged to you for bringing Hulme's article to my attention.
Post a Comment
<< Home