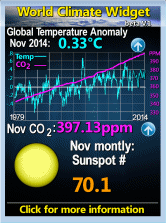 Saturday, March 31, 2007
I didn't quite have to go to the other side of the world to find the milti-billion $ effect of Iran arresting these soldiers but it certainly doesn't get much mention in our media. This from the
New Zealand Herald
Oil rose 1 per cent yesterday to nearly US$67 a barrel on intensifying global supply worries stoked by the row between Britain and Iran and a strike in France that threatens to crimp summer fuel supplies in the United States.

Light crude for May delivery rose 53c to US$66.56 a barrel, having jumped 3 per cent a day ago.

London Brent crude rose 83c to US$68.71 a barrel, climbing for the eighth day in a row.


It doesn't take much imagination to realise that Iran is doing very nicely out of this crisis or to suspect this may be why they are doing it. Such imagination, however, would complicate the story.