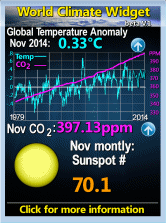 Monday, February 12, 2007
WHETHER THE GREEN MOVEMENT RAISED AWARENESS OF PROBLEMS
The Clean Air Act in the UK was passed in 1956 & in the US the first in 1963. Both of which handily predate the "environmentalist" movement. I won't quite say they did nothing but harm but certainly many "environmentalists" are merely riding a pre-existing popular feeling in the cause of Ludditism & sometimes socialism. To be fair to real socialists no political philosopher was more in favour of scientific & industrial progress than Marx & most of the Green Marxists are no more Marxist than Green.
CCNet
32/07 - 12 February 2007
To subscribe, send an e-mail to listserver@livjm.ac.uk ("subscribe cambridge-conference").