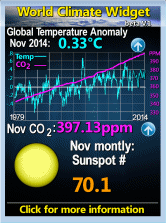 Wednesday, January 10, 2007
Says David Cameron
Well it made me laugh ;-)
Methinks he is at last realising that popular though Greenery may be with the media spinmeisters (from among whom he is drawn) & political nannies generally it is playing increasingly badly with real people.
Comments:
"
Some of his attempts to prove his environmental credentials have backfired,
such as when it was revealed that his chauffeur drove behind with his briefcase and a change of clothes when he cycled to work.
Neil, now that
IS
funny!
Clearly poor old Mr. Cameron's heart really isn't in it(the catastrophic warming I mean, not the cycling).
Oh well, at least he probably looks trendy riding a bike dressed in skin-tight lycra.
Does Cameron shave his legs too or is he not
that
"trendy"?
Post a Comment
<< Home