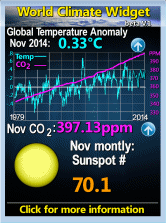 Sunday, October 29, 2006
The European Commission has criticised Ireland for not being on target to reduce carbon emissions.

It says Ireland ranks amongst the worst performers in the EU, at fourth from the bottom in terms of cutting greenhouse gas emissions.

Under the Kyoto Protocols, Ireland is committed to reducing the rise in carbon emissions to 13% by 2010.

Advertisement


However, the Commission says that without additional measures, Ireland's carbon usage will increase by closer to 30%.

From
RTE News
This is, of course, because Ireland's economy is growing fast, unlike the big countries of the EU. Isn't life tough for the poor bureaucrats when the achievements of real people get in the way of their managed decline.