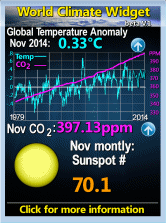 Monday, May 08, 2006
Lifted from
The Reference Frame
Via CCNet [CCNet is a scholarly electronic network edited by Benny Peiser. To subscribe, send an e-mail to listserver@livjm.ac.uk ]
--------------------------------------
Jupiter
A new storm and a new red spot on Jupiter hints at climate change, USA TODAY and dozens of other sources explained yesterday. The temperatures are expected to change by as much as 10 Fahrenheit degrees at different places of the globe. At least close to the new spot and to the equator, nothing less than global warming is expected.
Triton
Triton is Neptune's largest Moon. Some people believe that it used to be an asteroid. Global warming was detected on Triton. Between 1989 and 1998, the temperature jumped by 5 percent on the absolute (Kelvin) scale. The same relative increase would raise the Earth's temperature by 22 degrees Fahrenheit in 9 years. See thousands of other pages about the global warming on Triton.
Enceladus
Another moon of Saturn's, Enceladus, would be also expected to be frozen and cold. Suddenly, Cassini has informed us that Enceladus generates its own heat. Its high temperatures seem to be incompatible with calculations based on solar energy itself, according to existing models.
Saturn
Saturn itself has a rather warm southern pole, and the temperatures in that region suddenly jumped by 3-5 Kelvin degrees. Well, it's warm because it's been exposed to sunshine for quite some time but the magnitude of the temperature jumps is not trivial to calculate.
Pluto
What's going on with Pluto? Well, yes, your guess is right. There is global warming on Pluto. Pluto's atmospheric pressure has tripled in 14 years, and the associated increase of temperature is estimated to be around 3.5 Fahrenheit degrees, despite the motion of Pluto away from the Sun.
Mars
Of course, the global warming on Mars is a well-known story. The warming has been used by this blog to discover the Martians. More seriously, we have explained that the dramatic and speedy melting of the Martian icecaps is caused by the greenhouse effect. 95% of "their" atmosphere is made of carbon dioxide; that's slightly more than 0.038% of our atmosphere.
The warming trend on Mars is undeniable. Some people have tried to blame the global warming on NASA's rovers. Such accusations are pretty serious because NASA is already preparing plans to occupy Mars using the greenhouse effect, as ordered by George Bush. ;-)
Venus
Venus, our planet's evil sister, has already been identified as unusable for life because of ... yes, because of the greenhouse effect that occured in the past. Last month, the Venus express gave us some new hints why Venus has such a thick atmosphere that generated global warming.
Earth
The Earth is currently experiencing warming, too, although a less dramatic one than the previous examples. However, there is apparently a huge difference. The warming on the previous planets and moons was natural. On the other hand, the warming on Earth couldn't evolve naturally: it is caused by the humankind, evil corporations, and their intelligent design, most left-wing scientists believe. The warming trends can't have anything to do with the Sun whose activity is now highest in the last 1000 years: it is unethical to propose that the Sun plays any role, consensus scientists argue.
------------------------------
If asked to guess I would suspect that some of these will turn out to be due to humanity. We now have better measuring instruments. A real increase of 3.5 degrees on Pluto & tripling of atmospheric pressure would be be quite spectacular.