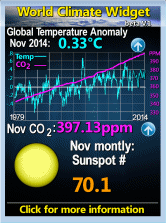 Sunday, February 26, 2006
A couple of days ago I said there was something where I had had an unintended bad effect on Scots politics. Last year I did a review here of various motions up for debate at conference. I was able to do this because, while not at the time a member, I was able to read these motions off the
ScoTLibDem website
. This year they haven't been put up. At the time I had noticed that motions were not posted by some other parties on their sites & thought it a good thing that the SLD weren't that embarrassed by their policies. I think it is a bad thing for the public that we get protected from seeing this stuff.
Fortunately;
MOTION 1 MANAGING RADIOACTIVE WASTE*
No I'm not going to type these all out. All you want to know is "Conference reiterates its opposition to the construction of new nuclear power stations" followed by 10 paras of why radioactive waste will "remain dangerous for hundreds of thousands of years" (it won't). This is designed to keep the debate off the subject of the 2/3rds of electricity we are about to lose - a matter which makes a substantial number of Lib Dems support nuclear - Glasgow Lib Dem councillors produced a composite pro-nuclear motion with Labour, which, while purely token, is a substantial token.
2 - TRANSPORT PLANNING*
1(b) bullet train between Glasgow & Edinburgh - maybe £1 billion, maybe £3B
(d) "improving the regulatory ability of local authorities over bus services" (from the context "improving" automaticaly means giving the council more powers - I have a philosophical difference with this)
2(d) "encouraging public transport use, walking & cycling to tackle obesity" (this is a transport policy?)
3(c) "improving the attractiveness of walking & cycling by reducing vehicle speeds in residential areas" (anybody want to define a residential area?)
3 - TEACHING OF FOREIGN LANGUAGES*
"supporting", "encouraging", "baseline audit", "expansion", ""building of capacity" & generally spending.
4 - HOLDING MOTION - MOVING TO FEDERALISM*
5 - EARLY YEARS EDUCATION CHILDCARE & FAMILY SUPPORT*
Breakfast clubs before school, more after school activities, parenting support training & nurturing classes (this has some points though again it is not costed)
6 - ALCOHOL & DRIVING (Inverness East constituency)
"conference notes with dismay that in the UK drunk driving caused the loss of an estimated 590 lives....1 in 6" so cut the limit from 80mg to 50mg. (I would point out that in 1879 total road deaths were 1590, half todays, & the car hadn't been invented so on balance I don't think that is to dismaying. In any case we are talking about deaths caused by people already over the limit - what effect will cutting the limit do?
7 - ENCOURAGING CYCLING (Inverness East)
"increase funding", "increase investment", "shift the balance of the law.....treat the vehicle driver more seriously than the vulnerable road user"(I sympathise with the intention but I don't like the idea of assuming one party guilty until proven innocent), "20mph zones in residential areas"(almost everywhere is residential to somebody)
8 - ROAD USER PRICING (Referred from Federal Conference)
(Personally I don't see that road pricing systems will be much better at allocating proper costs than petrol tax since cars in congestion use faar more petrol per mile than those on open roads. It will also give government an enormous system for watching & contolling us)
9 - HOSPITAL NUTRITION (Women's Group)
"awareness", "national standards", "attention given to the wishes of patients", "recruitment of dieticians", "attention ...in line with that now given to school meals"(actually while this would take a little money & runs the risk of getting staff into additional meetings hospital food is notoriously dreadful so I would support this)
10 - ENERGY EFFICIENCY & URBAN RENEWABLES (Scottish Green Lib Dems)
"we need a revolution in renewable energy in urban areas", ""require all new homes & buildings to (have) wind turbines (etc)", "reform planning law to make micro-generation permitted development" (well I support getting rid of planning regulations too but more to allow pputting up houses rather than noisy windmills - I guess this is amatter of priorities), "business rate reductions for companies fitting micro-generation devices" (it is good to see everybody agrees cutting business rates will encourage industry - it is just a pity that the only form of encouragement allowed to be discussed is not encouraging economic success but just encouraging windmills), "guarantee MG electricity can be sold back to the grid at market rate" ("market rate" means what somebody will buy it for - what they really mean is at 2 in the morning when nobody is using we would still have to pay for it, & for all the metering etc this nonsense would cost), "tax reforms that will reward energy saving businesses"(One of the reasons for not allowing my motion is that it was "not costed" which it was - this motion shows no sign of costings & would clearly, if implemented at non-token level cost many billions annually & drive up housing costs substantially)
11 - HEALTH SERVICES IN SCOTLAND - East Renfrewshire
"extend GP hours", "fine those who fail to attend appointments"(I am amazed this got put up - since it is exactly what the health service needs it is extremely politically incorrect), "mandatory ambulance ...within a guaranteed time"(mandatory waiting list times have led to people playing around with list - you don't have time on a 999 call to play with lists), "review...competitive tendering..end cleaning staff serving food"(more union power, more demarcation dispute ....it makes me feel young), "establish gender balance ...of medical students"(so nursing courses go abegging because they can't fill 50% of places with men), "requirement of all dental practitioners to allocate time for NHS"(or what - you won't allow them to emigrate), "increase the number of UK citizens who wish to be medical, dental & nursing students...to faciltate 3rd worlders ...to serve in ...countries of need"(how to increase that number - tell them they will be forced to work longer hours & more time in the NHS?)
12 - FIRE SERVICES - HOLDING MOTION - Aberdeen South
Once again, as in every conference since devolution, nothing on improving the economy & creating wealth. Nothing on reducing bureaucracy or nannyism. Just lots & lots of niggling silly ways of telling other people what to do, & a very few good points.
* motions marked this way are from the Policy Committee so only 3 full motions from constituencies got accepted, 2 from the same contituency but the Wimmen's & Green special interest groups got on which shows how much the special interests have hollowed out what was a live party.