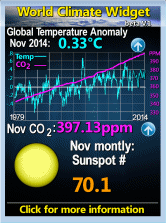 Sunday, December 11, 2005
More Kyoto scandal from Montreal - propaganda extraordinaire!
By: Lorne Gunter,
National Post (Toronto) November 28, 2005
Beginning this week and carrying on well into
next, Montreal's canape caterers, its Beaujolais
purveyors, Voss water suppliers, fresh Ahi tuna
mongers and Wagyu beef importers will be busy as
can be. Every chef with a tall hat, every waiter
with a tux, every chambermaid, doorman and maitre
d' will be rushed off his or her feet.
The UN is in town.
The 11th "conference of the parties" (COP11),
made up of those countries that signed the 1997
Kyoto accord on global warming -- some 3,000
official delegates and 6,000 observers --doesn't
talk catastrophe on an empty stomach. Why would
it? The vast majority of participants will be
there on the tab of their taxpayers back home --
official government delegates, government-funded
scientists, and NGO members whose travel is being
covered by a government grant.
There will be celebrities, too, drawn by the
desire to have their famous faces associated with
a fashionable cause. And environmentalists and media and demonstrators.
But what there won't be is any objective debate
about the science of global warming.
For the UN and the host Canadian government, the
issue is settled: Man-made global warming (GW) is
real and its solution will require lots of
centralized planning and regulation. Ending
global warming will feed big national governments
and busybody international organizations just as
surely as all those caterers, purveyors and
suppliers will feed COP delegates. Therefore,
delegates won't hear from anyone who questions the theory.
Ottawa has hired Montreal's Stonehaven
Productions to ensure delegates hear only from
those celebrities who agree with the GW
orthodoxy, too. Stonehaven is the producer of the
highly biased television series The Great Warming
and the equally subjective upcoming Secrets of
the Last Glaciers, which is billed as a
documentary about the race by scientists against
"the very greenhouse conditions we've created" to
extract critical scientific data from
high-elevation glaciers "before they melt away."
Stonehaven has recruited pop stars and actors to
deliver highly polished propaganda pieces
throughout the COP. It's even written their blurbs for them.
The clips are full of blame and doom. "An
uncertain shadow is building on our children's
planet ... and only we can stop it."
"We have only one home -- a little planet so
finely tuned that life thrives. But something's
changing that balance -- and warming our world."
It's humans and human activities. "Will we do anything about it?"
But producer Karen Coshof, who is also the
producer of The Great Warming and Secrets, made
the mistake of asking Olympic gold-medal skier
and entrepreneur Nancy Greene Raine to be one of
the talking heads. Raine said sure, but, in an
e-mail to Coshof, said she wanted to write her
own message and added "I would need your
assurance that it would be used." On Nov. 15,
Coshof replied "Of course you can write your own,
and you have my personal assurance it will be used."
Raine's draft stated: "Scientific discoveries in
the years since the Kyoto Protocol was signed
have rendered it out of date. It is time to
re-evaluate Canada's position ... The Kyoto
Protocol is not in our best interest, and will
not prevent climate change. The billions being
wasted trying to stop this natural phenomenon
should be diverted to solving real environmental
problems that we can control."
That's when the back-pedaling began.
"We cannot send political messages in these
clips," Coshof wrote to Raine, "Our focus is on urging action."
Of course urging action is by its very nature a
political act, particularly urging such obviously
one-sided action as the COP-11 celebrities.
Coshof then seemed to hope she could put Raine
off by telling her she had just 48 hours to have
the clip taped and sent to producers. Greene
said that was no problem, but asked again, "Can
you confirm that my comments as I wrote them would be used?"
Only a week after giving Greene her "personal
assurance it will be used," Coshof claimed she
was "just assembling" the celebrity messages and
that Stonehaven were "not the arbiters of the
final product." "My advice to you," Coshof
closed, was "probably best forget this."
And my advice to you, if you are expecting
objective, scientific analysis when you are
watching coverage of the COP11: Probably best forget it.
====================
Lorne Gunter is on the editorial board of the
National Post and is a columnist with the
Edmonton Journal - he may be contacted at lgunter@telus.net.
***********************************
Provided via
http://www.sepp.org/
weekly email - which you can & should ask to have sent to you.
Comparisons with the previous item are interesting. Genocide in Yugoslavia & melting of the ice cap are not obviously linked phenomenon. However in both cases we find the same suspects in the media & government engaged in selecting, distorting, selectively reporting, hyping, censoring, lying & sometimes even fabricating "news" in a way which allows them to keep the populace cowed & easily led while they expand their power & feed off the public trough (& find the snouts of allegedly left-wingers in as deep as anybody).
Latest News:
The BBC happily reports that at the 11th hour Montreal has succeeded & an agreement has been reached.
This agreement, it turns out, doesn't actually commit anybody to do anything (thankfully) but it does commit thrm to have another shindig like this.