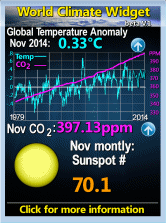 Sunday, November 20, 2005
The North Koreans have decided they want the diplomatic kudos from
joining Koyoto
:
``North Korea appears to have had the Supreme People¡¯s Assembly ratify the pact,¡¯¡¯ he said. ``The North is likely to send its delegation to a United Nations meeting on global climate change in Montreal, Canada, on Nov. 28.¡¯¡¯

The Chosun Shinbo, a pro-Pyongyang newspaper based in Japan, also reported that North Korea accepted the Kyoto Protocol in April as part of its efforts to join the international community in sustainable development.

Observers said that the North Korean move can be interpreted as its realization that the environmental issue has become one of the most important global agendas. North Korea has rarely attended international meetings related to the Kyoto Protocol.

``The U.N. agreement on climate change is an issue which no nation cannot ignore,¡± an official at the Ministry of Environment said. ``Aware of the international move on environment, North Korea is preparing for it.¡¯¡¯


PS the link has a download for Korean but since its default is English don't use it.