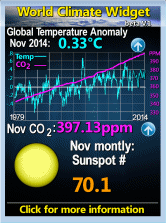 Sunday, November 06, 2005
David V DAVID
I just saw the 2 Tory contenders on the Not-Frost on Sunday show. David Davis said he wanted to cut taxes to stimulate growth (no specific mention of corpotation tax which was not good economics but may be good politics) & held up Ireland as an example.

David Cameron boasted that somebody had said he had the biggest global warming programme of any major UK politician.

I hope we don't end up with a spin master & public schoolboy on both sides of the despatch box.