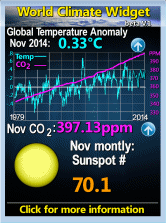 Sunday, February 27, 2005
From
SEPP.org's
latest email (if you are interested in this stuff you can sign on for a regular email from Professor Fred Singer there).
Particularly revealing were the almost sensational results of a survey
conducted by Prof. Bray among some 500 German and European climate
researchers. The results show impressively that the much- repeated claim of
a "scientific consensus" on anthropogenic global warming is a carefully
constructed piece of fiction: According to the survey results, some 25% of
European climate researchers who took part in the survey still doubt
whether most of the moderate warming during the last 150 years can be
attributed to human activities and CO2 emissions.


This is part of a report about a German scientific conference with, unusually representatives from both sides. If 1/4 of European climate researchers don't believe that the majority of any warming is caused by mankind then how many of the rest believe there is historically unusual warming at all (my guess 2/3rds of the 3/4s). How many of that rest believe it is remotely enough to start melting ice (my guess 1/4). How many of those believe Kyoto is an effective response (guess 1/10th) If this is what pro-Kyoto Europeans think & we know many American & Russian scientists are less convinced what proportion of world scientists agree (60%)?
If the consensus position is only held by (3/4 X 3/4 X 1/4 X 1/10 X 60%) 0.8% of scientists how exactly is that a scientific consensus? (It may be a political consensus in the same way that Lysenkoism in the USSR was - except more disastrous)
Comments:
If you mean real figures of the opinions of all climate scientists on whether they believe in warming & to what degree - no I don't think it has been done, certainly not by the warming enthusiasts.
Nobody on the sceptical side suggests we should not look at the evidence. Only the enthusiasts say that on the grounds that "the debate is over".
If you are looking for evidence I suggest you follow the Link to Professor Singer's SEPP where there is a vast amount of refutatun of anthropogenic & catastrophic warming.
There are also a number of other threads on "climate change" on this site which you may find useful.
Post a Comment
<< Home