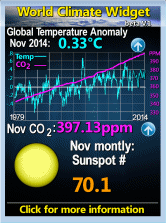 Saturday, December 11, 2004
From Yahoo (click on title for the full article)
The Bush administration has spent more than $65 million in the past two years to aid political organizations in Ukraine, paying to bring opposition leader Viktor Yushchenko to meet U.S. leaders and helping to underwrite exit polls indicating he won last month's disputed runoff election.

U.S. officials say the activities don't amount to interference in Ukraine's election, as Russian President Vladimir Putin (news - web sites) alleges, but are part of the $1 billion the State Department spends each year trying to build democracy worldwide.

No U.S. money was sent directly to Ukrainian political parties, the officials say. In most cases, it was funneled through organizations like the Carnegie Foundation or through groups aligned with Republicans and Democrats that organized election training, with human rights forums or with independent news outlets.


But officials acknowledge some of the money helped train groups and individuals opposed to the Russian-backed government candidate — people who now call themselves part of the Orange revolution.


For example, one group that got grants through U.S.-funded foundations is the Center for Political and Legal Reforms, whose Web site has a link to Yushchenko's home page under the heading "partners." Another project funded by the U.S. Agency for International Development brought a Center for Political and Legal Reforms official to Washington last year for a three-week training session on political advocacy.

Nothing very new here but it is interesting to see it admitted so clearly.
The four foundations involved included three funded by the U.S. government: The National Endowment for Democracy, which gets its money directly from Congress; the Eurasia Foundation, which gets money from the State Department, and the Renaissance Foundation, part of a network of charities funded by billionaire George Soros that gets money from the State Department. Other countries involved included Great Britain, the Netherlands, Switzerland, Canada, Norway, Sweden and Denmark.

Grants from groups funded by the U.S. Agency for International Development also went to the International Center for Policy Studies, a think tank that includes Yushchenko on its supervisory board. The board also includes several current or former advisers to Kuchma, however.


A few days ago the Beeb reporter on the Ukraine election said that the assorted western powers (remember this is just the US figures) had paid $20 million for the election but justified it on the basis that the Russians had paid $200 mill. does anybody think their Russian figures arn't a lie as well. Does anybody think the Beeb didn't know they were lying to us?
Addendum - after the Georgian government was overthrown by a very similar "popular" rising following a very similar election result the new opposition held an election for which they got an overall result of 96.4%. The western powers & their fundees announced that this was a triumph for free democracy.
Comments:
Thanks for your sharing! The information your share is very useful to me and many people are looking for them just like me!
Post a Comment
<< Home