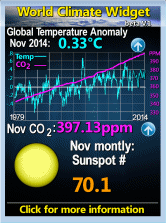 Thursday, November 18, 2004
Next time some luddite tells you nuclear is dangerous
"Last winter 21,500 people over the age of 65 died as a direct result of the cold in England and Wales. To the nation's shame, these numbers of unnecessary winter deaths are much higher than in comparable European countries.
Fuel poverty and poorly insulated homes are major contributors to winter deaths in England, where there are more than 1 million older people living in fuel poverty."
We are paying about 6p a unit & the government says electricity prices are "bound" to rise to pay for windmills, which cost about 8p a unit. Meanwhile nuclear costs 2.3p here & is cheaper in the US (not the most pro-nuclear country). How much it costs the French is obviously not going to be told since they are making a whacking profit selling nuclear electricity to all their anti-nuclear neighbours:
"Economical Nuclear Generation
As nuclear plants increased their electricity production, their production costs declined. Nuclear production costs (which include fuel together with operating and maintenance ex-penses) are at an all-time low, and less than half of what they were a decade ago. Nuclear power plants are so efficient, in fact, that their production costs are among the lowest of any energy source.
In 2001, the average electricity production cost for nuclear plants was 1.68 cents (ie just under 1p though this doesn't cover building the reactor in the 1st place)per kWh; for coal-fired power plants, 1.80 cents per kWh; for oil, 4.93 cents; and for natural gas, 6.08 cents."
So the only reason England & Wales have 21,500 deaths from fuel poverty every year, & Scotland presumably about 3,000 is because the eco-fascists insist that they & we pay at least twice proper price for the stuff. Meanwhile the Chernobyl disaster killed 45.
Comments:
Hello Everybody,
My name is Mrs Sharon Sim. I live in Singapore and i am a happy woman today? and i told my self that any lender that rescue my family from our poor situation, i will refer any person that is looking for loan to him, he gave me happiness to me and my family, i was in need of a loan of S$250,000.00 to start my life all over as i am a single mother with 3 kids I met this honest and GOD fearing man loan lender that help me with a loan of S$250,000.00 SG. Dollar, he is a GOD fearing man, if you are in need of loan and you will pay back the loan please contact him tell him that is Mrs Sharon, that refer you to him. contact Dr Purva Pius,via email:(urgentloan22@gmail.com) Thank you.
BORROWERS APPLICATION DETAILS
1. Name Of Applicant in Full:……..
2. Telephone Numbers:……….
3. Address and Location:…….
4. Amount in request………..
5. Repayment Period:………..
6. Purpose Of Loan………….
7. country…………………
8. phone…………………..
9. occupation………………
10.age/sex…………………
11.Monthly Income…………..
12.Email……………..
Regards.
Managements
Email Kindly Contact: urgentloan22@gmail.com
Post a Comment
<< Home